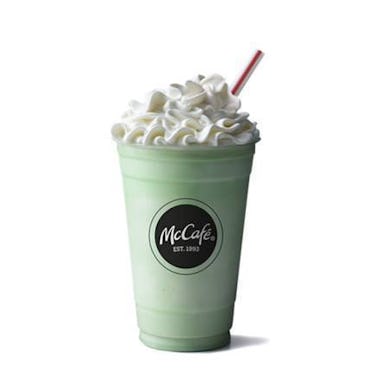 This Is Exactly What McDonald's Shamrock Shake Tastes Like, So Go Get Yours ASAP
McDonald's
Green drinks often tend to get a bad rep, and in all honesty, it usually for a pretty good reason. Some green drinks taste like bitter kale juice, while others taste like parsley (ew), and some even taste like spinach. And although I love vegetables with an undying, fiery passion, I'd rather eat a salad instead of slurping down a giant mouthful of earthy plant pulp. I mean, TBH, that might be the last thing I want in my life. But since McDonald's signature seasonal green drink is so popular, you're probably wondering what McDonald's Shamrock Shake actually tastes like... and it's definitely better than vegetable juice, in my book.
If you haven't already tried a Shamrock Shake, then I'd like to give you my St. Patrick's Day condolences. In reality, I'm not entirely sure how you've ever been able to survive one single March — Mother Nature's most cold and heartless month, in my opinion — without having one in your hand. While many say the Shake is flavored with "leprechaun tears, pots of gold, and a little luck," it really just tastes like a rich and pillowy vanilla shake, with hints of refreshing mint. It's seriously phenomenal. In all honesty, everyone needs a little Shamrock love in their lives, and 2018 is definitely the year for all of you to give the Shamrock Shake a shot.
Even though the Shamrock Shake has been vanilla-mint flavored for about six years, it actually used to be lime-flavored, per The Broward-Palm Beach New Times. To give you a little backstory, the Shamrock Shake was initially introduced in 1970, and it was originally called the "St. Patrick's Day Shake." It consisted of a vanilla milkshake, blended with lemon-lime sherbet, and TBH, it sounded a little nasty. Over a decade later, in 1983, someone came up with the brilliant idea to make it mint-flavored instead, and although the St. Patrick's Day specialty went MIA between the '90s and '00s, the Shamrock Shake officially made a seasonal comeback in 2012. And the rest is history.
While I'd maybe donate one of my limbs just to indulge in Shamrock Shakes year-round, they're sadly only around for a very limited time. The green-hued shake will officially leave McCafé menu after St. Patrick's Day, which is Saturday, March 17, per an email from McDonald's to Elite Daily. So if you're definitely planning on making this year your Shamrock Shake year, (which you totally should), go for it A$AP Rocky.
You might be looking for the taste of the Shamrock Shakes, but you might also be trying to rack up those Membership Stars... in which case, you should definitely take a look at all of the Starbucks Secret Menu items, which totally taste like everyone's fave McCafé milkshake. Between tantalizing items like the Chocolate Mint Frappe, to the Skinny Mint, as well as the Lucky Leprechaun, there are so many tasty options that'll have you feeling hella lucky... but that lucky feeling might actually just be the caffeine kicking in. And after you learn how to order each of them, you'll be able to finally indulge in that minty goodness all year long.
I'm not entirely sure why — or how, for that matter — you've waited this long to try one of McDonald's legendary and (unfortunately) seasonal Shamrock Shakes, but if vanilla-minty goodness hasn't already convinced you to go out and get one, I'm not entirely sure what will. Shamrock Shakes are simultaneously refreshing and deliciously rich, and they totally get you into the St. Patrick's Day spirit. And if caffeine is more your jam, Starbies has you covered, because chilly mint drinks totally aren't exclusively available at Mickey D's.