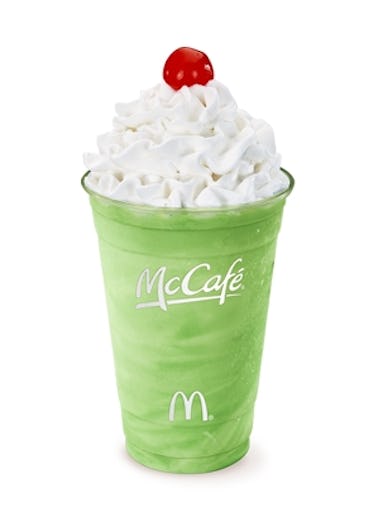 Here's How To Make A Shamrock Shake At Home, So St. Patty's Day Can Last All Year
In case you haven't heard, McDonald's has added your green seasonal favorite to its menu once again this year. While the Shamrock Shake may not look quite appetizing due to its green color, it's always a hit with those gearing up for St. Patty's Day. So, if you're in the mood to celebrate the beloved Irish holiday, here's how to make your own Shamrock Shake at home, so feel free to make it even when it's not St. Patty's Day.
While it may look intimidating, don't let the green color fool you. This trendy beverage is way easier to make than it looks. Here's the lowdown to all the ingredients this recipe calls for, and just how much to put in there to make sure it's positively perfect. Don't be stressed out, the main ingredients are pretty straightforward — and from there you can just put your own twist on it.
There's two ingredients that are absolutely necessary, and that's vanilla ice cream and mint extract. Both are super easy to find in supermarkets, and honestly, probably pretty necessary additions to your kitchen at all times.
From there, it's pretty much your call on how to make this beverage your own. Want to add peppermint? Go for it. Prefer to keep your beverages skim and want to add some non-fat milk? No problem there. Want to throw that healthy eating plan to the wind and add that extra whipped cream? Hell yes! What's great about this concoction is that there's literally so many different ways you can make it. So go wild, kids.
Clearly this isn't your standard green drink. While you may see people sipping kale smoothies and taking ginger shots, you can bet I'll be drinking anything that calls for vanilla ice cream, chocolate syrup, and whatever else delicious I want to add to the mix.
So you have your ingredients, now what? Well, you can enjoy this festive beverage in just two easy steps. Literally all you have to do is blend the ice cream, mint, and any other flavors you choose in a blender until its smooth. Then, add chocolate syrup, whip cream, or whatever your heart desires as the finishing touch.
And no lie, that's it. It's done.
If the idea of winging it makes you nervous, however, there are official recipes out there.
This one from All Recipes, for example, only takes 10 minutes to make. After all, delayed gratification is for suckers right?
For those who want to celebrate St. Patrick's Day a bit more traditionally — and are over 21! — there's also a few boozy Shamrock Shake recipes to test out. Kitchen Treaty has a recipe that you can use with the liquor of your choice. Note: adult eyes only, don't want any of you youngsters getting any ideas.
(I'll take two, please.)
Now that you've read this, that means you're probably sipping a DIY Shamrock Shake in the comfort of your own home right now. So, want to know a little backstory on the beverage you're enjoying so much at the moment? Well here you go.
The Shamrock Shake was initially introduced in 1970, by its original name "St. Patrick's Day Shake." As opposed to its currently delicious ingredients, the original recipe called for vanilla milkshake with lemon-lime sherbet. #Blessed that we put an end to that.
In 1983 the idea to infuse the vanilla ice cream with mint came to be, and it's been true love ever since.
So how long can you snag this delicious drink in store? According to a McDonald's spokesperson, who spoke with Elite Daily, March 17 is the cut off date to order the drink at McDonald's. So for those who opt for ordering rather than chef-ing it up yourself, you have a little time until the Shamrock Shake is off the menu.
Easy peasy, but rest assured you'll be feeling some sort of way after those particular Shamrock Shakes.
So whether you're enjoying a McDonald's speciality or opting for a bit more of a mature option, the taste is going to be great regardless. Cheers!