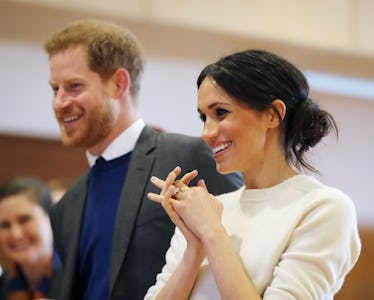 You Can Buy Swimsuits Of Meghan Markle & Prince Harry's Faces & OMG
Pool/Getty Images Entertainment/Getty Images
Been wanting to take your love for the U.K.'s hottest couple to the next level? These swimsuits of Prince Harry and Meghan Markle's faces are this season's hottest (and strangest) accessory. I'll see all of you by the pool.
I don't know about y'all, but I didn't know I needed a one piece bathing suit with Prince Harry's face on it until right now. These truly one of a kind creations are thanks to Bags of Love, a U.K. based website that features personalized gifts that any customer can design to their fancy. According to the site, these one piece swimsuits are made out of Lycra spandex fabric, and comes in either matte or sheen. Plus, Bags of Love claims this swimsuit is "flattering on any figure," but that goes without saying if you're flaunting Markle or Prince Harry's faces on that ensemble. This personalized bathing suit will run you about $40 in American currency, but the double takes you'll get while rocking this look? Priceless.
Also, is it just me, or does Prince Harry and Markle's faces kind of resemble that long faced Snapchat filter? If someone is on the hunt for a perfect gag gift, I'm pretty sure you've found a winner.
Just look at these and tell me you're not immediately reaching for your wallet.
These swimsuits are just a taste of the royal wedding fever we've all been experiencing. On May 19, Markle and Prince Harry will say "I do" at St. George's Chapel in Windsor, U.K. I don't think I'm exaggerating when I say that this is perhaps one of the most anticipated weddings in history. The couple's engagement was announced in November 2017 through a public statement from Clarence House, and no one could contain their excitement.
The statement read,
...Further details about the wedding day will be announced in due course. His Royal Highness and Ms. Markle became engaged in London earlier this month. Prince Harry has informed Her Majesty The Queen and other close members of his family. Prince Harry has also sought and received the blessing of Ms. Markle's parents. The couple will live in Nottingham Cottage at Kensington Palace.
Since then, the royal family has been teasing the public with small glimpses of all the wedding preparations. Now that the royal wedding is only a few days away, we've learned about Markle's dress, the guest list, and the couple's post-wedding plans. Even though royal weddings are known to be traditional affairs, it's clear that this particular couple is taking their marriage into their own hands. Not only will Prince Harry break tradition by wearing a wedding ring after their nuptials, but Markle doesn't plan to have a maid of honor by her side during her vows. A palace spokesperson told People on May 4 that Markle chose not to select a MOH because she didn't want to "single out" anybody within her close circle of friends.
"She has a very close-knit circle of friends and she didn't want to choose one over another," the palace spokesman said. "All have been actively involved in helping her prepare for the day and will be there in the days beforehand."
Glamorous royal weddings may be fleeting, but friendships are forever. Will Markle ever cease to amaze me? Doubtful.
With all this anticipation building, I'm not sure if I'll be able to handle watching the moment Markle walks down that aisle towards Prince Harry. If these two want to continue proving they're a one of a kind royal couple, I'd say rocking personalized swimsuits with each other's faces on them is the perfect honeymoon attire.
C'mon, just think about it.