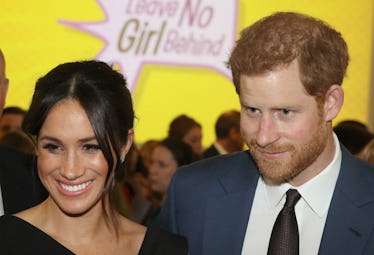 Prince Harry Will Reportedly Break This Huge Tradition When He Marries Meghan Markle
Chris Jackson/Getty Images Entertainment/Getty Images
Prince Harry and Meghan Markle have made it clear they're not afraid to break tradition when it comes to their wedding, but now they're also breaking tradition with their marriage! If you look at Prince Charles and Prince William's wedding ring fingers, you'll notice neither of them wears a wedding ring despite the fact that they're both married. Among English royalty, it's apparently not common for men to wear wedding bands like their wives. So, will Prince Harry wear a wedding ring? It looks like Harry is down to break that marriage tradition, as Metro reports he plans to wear a wedding ring after he and Meghan Markle get married on May 19.
Some of the traditions the couple plans on breaking when it comes to their royal wedding are pretty simple changes, but some of them even break American tradition. For one, Markle is reportedly planning on having her mother walk her down the aisle. That's become increasingly common in the U.S., but the typical move is still for the bride to be walked down the aisle by her father. Markle is also reportedly planning on giving her own speech during the reception, and has chosen to have a maid of honor instead of a chief bridesmaid like English wedding parties usually have. (That maid of honor will reportedly be one of Markle's closest friends, and Prince William is acting as Prince Harry's best man.)
Prince Harry is reportedly choosing to wear a wedding ring, whereas his father and brother chose not to.
According to Metro, William not wearing a ring was a matter of personal preference and nothing more. A royal spokesperson once said on William's behalf that not wearing a wedding ring "was something the couple discussed but Prince William isn't one for jewelry — he doesn't even wear a signet ring — and decided he didn't want to. It really is just down to personal preference." Prince Charles wore a signet ring on the pinky finger of his left hand when he married the Duchess of Cornwall in 2005, according to Metro, but he doesn't wear it all the time and he doesn't have a wedding band.
Signet rings are common among the men in the royal family, as they usually have the initials of the person wearing them on it or a family crest. Prince William apparently just isn't into wearing rings, but his little brother has reportedly decided he wants a band to match Markle's.
The center diamond was sourced in Botswana — the location where Harry and Meghan went on their first vacation together and reportedly started falling in love. The two diamonds on either side of the center diamond were taken from Princess Diana's jewelry collection, so that's a touching tribute to the prince's late mother. The band is yellow gold because, according to Harry, that's Meghan's favorite. I imagine Harry's wedding ring might end up being yellow gold as well if they really do want their rings to match.
The carriage the couple has chosen is one of five Ascot Landau carriages the royal family owns. The carriage procession will go down right after the ceremony on May 19, leaving St. George's Chapel at Windsor Castle around 1 p.m. London time. In the press release detailing the carriage, The Crown Equerry, Col. Toby Browne said the carriage is a "wonderfully bright, small, lovely carriage, very easy for people to see," adding, "the passengers can sit up quite high. So there's lots of visibility for everybody." This whole horse-drawn carriage thing is the most British thing I've ever seen, and I think that every single time I see a horse-drawn carriage. So while Harry and Meghan are bending tradition with some aspects of their wedding and marriage, they're clearly still down to do some of the extra AF royal wedding traditions. I live for it.