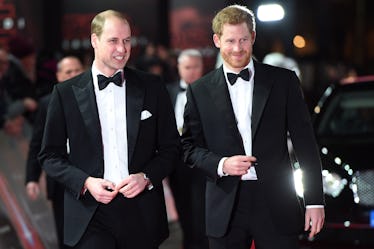 Prince Harry Asked Prince William To Be His Best Man & The Announcement Is So, So Sweet
WPA Pool/Getty Images Entertainment/Getty Images
The royal wedding is just a few weeks away, and through all of the various announcements about the big day, we still haven't been told who will be in Prince Harry and Meghan Markle's wedding parties. That changed on Thursday, April 26, when Kensington Palace announced that Prince Harry's best man is Prince William in the sweetest announcement you could think of. Kensington Palace made the announcement in a series of tweets, but instead of just using words, the tweets included a bunch of throwback photos of Prince Harry and Prince William together and it's heartwarming AF.
The first tweet announcing Prince Harry's best man pick read, "Prince Harry has asked his brother The Duke of Cambridge to be his Best Man at his wedding to Ms. Meghan Markle." The photos were of the brothers attending the Star Wars: The Last Jedi premiere playing with light sabers, and cheering at some kind of sporting event. Next came a tweet that read, "Prince Harry served as best man to The Duke of Cambridge at his wedding to Miss Catherine Middleton in 2011." That tweet was accompanied by a photo of the two princes at William's wedding in 2011. The final tweet was the most adorable of all. It said, "The Duke of Cambridge is honoured to have been asked, and is very much looking forward to supporting his brother at St George's Chapel, Windsor on May 19th." This tweet came with a photo of Prince William and Prince Harry as children dressed as police officers.
I don't know about you guys, but I'm feeling the brotherly love!!
The photos of Prince William and Prince Harry at the Star Wars premiere and playing with light sabers are some of my favorite photos that exist. (They had cameos as Stormtroopers in The Last Jedi, but the scene was unfortunately cut because they were too tall. Whatever, it still counts!)
Here they are looking dapper AF (and very happy to be at an event that's more fun than it is work).
Look at them gazing lovingly at BB8! Honestly, same. I love that little droid. (This photo wasn't used in Kensington Palace's announcement. I just love it very much.)
This photo of the princes playing with light sabers, however, was part of the best man announcement. You can tell by the looks on their faces that they were 100 percent making light saber noises as this photo was being taken.
*Light saber noises get louder*.
Overall, I'd say this is my favorite royal announcement on Twitter of all time. The photos are just too good. They remind me of being a kid and watching the teenage princes on TV and obsessing over them with my older sister (as was the birthright of every '90s child).
This week is shaping up to be a very sentimental one for the royal family. On Saturday, April 21, the family celebrated Queen Elizabeth's 92nd birthday. On Monday, April 23, Kate Middleton gave birth to a healthy baby boy. And now on April 26, the world learns that Prince William is going to be Prince Harry's best man at his wedding. If the royal family has been trying to make me emotional, it's freaking working.
Kensington Palace announced the birth of Prince William and Kate Middleton's third child on Monday, April 23. They debuted the baby just seven hours after Middleton gave birth.
The birth announcement read,
Her Royal Highness The Duchess of Cambridge was safely delivered of a son at 1101hrs. The baby weighs 8lbs 7oz. The Duke of Cambridge was present for the birth. Her Royal Highness and her child are both doing well.
A corresponding tweet confirmed that the royal family had been informed and were so happy to hear the news.
It said, "The Queen, The Duke of Edinburgh, The Prince of Wales, The Duchess of Cornwall, Prince Harry and members of both families have been informed and are delighted with the news." I, for one, am the most excited to see this royal baby attend Prince Harry and Meghan Markle's wedding. May 19, come sooner!