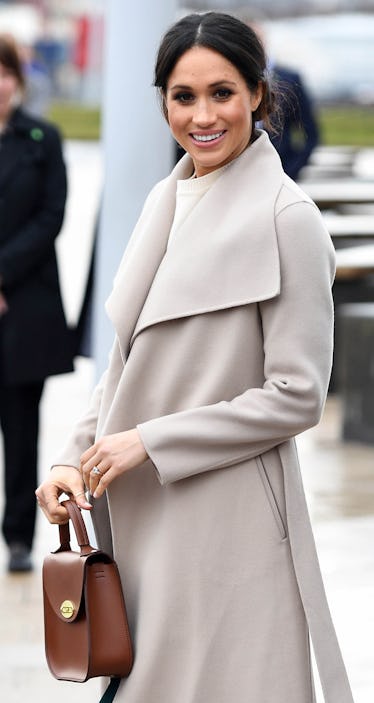 These New Details About Meghan Markle's Maid Of Honor Will Make You So Excited
Pool/Getty Images Entertainment/Getty Images
Whenever there's a new detail about the royal wedding, I get excited all over again. New wedding cake details? OMG. New wedding dress clues? BRB, crying of happiness. And now that Meghan Markle and Prince Harry's big day is quickly approaching, the world wants to know a few more things. My biggest question at the moment: Who will be Meghan Markle's maid of honor? There are a few theories floating around, so let's throw some ideas at the proverbial wall and see what sticks, shall we?
Meghan Markle will choose an old, close friend.
When you're standing up at the altar, it's nice to have someone who has been by your side for years standing next to you as you recite your vows. A source told Entertainment Tonight that Markle will "choose one of her closest friends who has stood by her for many years before meeting Harry." Honestly? I think that's a fantastic option. While there's no confirmation on which friend Markle would choose, we know that she wouldn't take the decision lightly, because there are literally no decisions that are taken lightly when you're marrying into royalty.
Meghan Markle will choose her stylist, Jessica Mulroney.
Jessica Mulroney is much more than just a stylist to Markle. When news broke of Markle's relationship with Prince Harry, they stayed at Mulroney and her husband's place in Toronoto to hide from paparazzi. Vanity Fair's Katie Nicholl said that Prince Harry "was a big hit with the couple's three young children' 7-year-old twins Brian and John, and their 4-year-old daughter, Isobel," adding, "He won the kids over in an instant. He was brilliant with them and I think what swung it for Meghan was how good Harry was with them."
If your BFF's man wins over your kids, it's clear that you approve of the relationship and would probably love to be a part of their wedding day.
Another reason why Mulroney might be chosen as Markle's maid of honor? She's apparently been there throughout the wedding planning process, and even helped Markle pick out her wedding gown.
An Us Weekly reporter tweeted that "sources tell me that Meghan Markle has officially picked a wedding dress designer and had her first fitting at Kensington Palace last week," and that "BFF and bridal expert Jessica Mulroney is guiding Meghan though the process":
My spidey-senses tell me that Mulroney is definitely in the running for taking the prime spot in Prince Harry and Meghan Markle's wedding party.
Meghan Markle will choose her future sister-in-law, Kate Middleton.
Sorry, y'all, but it doesn't look like this one is going to happen. As much as I'm loving the idea of Kate Middleton as Markle's maid of honor (well, matron of honor if we're being technical), sources are saying that "Meghan won't be looking to Kate to serve" for that position in her wedding party. But hey, I think we should just be happy that these two royal women have a strong bond that keeps on growing.
A source told Entertainment Tonight that "Meghan has also turned to Kate to keep her company as she has less flexibility roaming around freely since joining life as a future member of the Royal Family ... Meghan is adapting to a life without her social media accounts, under the constant scrutiny of the paparazzi, with help from Kate."
So Meghan has Kate to thank for all those royal tips.
Kate was probably like, "I've got your back, girl," because she's one of the coolest royal ladies the world has the pleasure of knowing.
Perhaps as her way of saying thank you, Meghan apparently visits Kate and her children frequently and is known for "dropping off treats," so that's even more adorable.
But as I said, Kate Middleton won't be the one standing by Markle's side as maid of honor on May 19 — so even though they are forging a strong friendship, Middleton won't be the maid of honor.
And hey, if none of these choices work out, Meghan, just let me know, and I'll try to pull some strings on my end to be available as a fill-in. Happy to help out in any way I can.