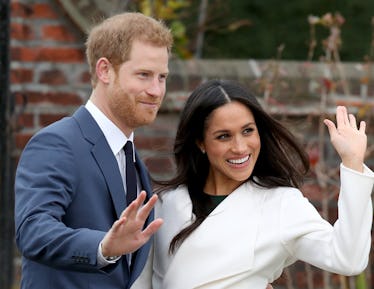 Prince Harry Designed Meghan Markle's Ring Himself & We're All So, So Jealous
Chris Jackson/Getty Images Entertainment/Getty Images
Take a deep breath, folks, because I'm about to ruin your dreams of royalty. That's right, it's official: Prince Harry is engaged to his longtime girlfriend Meghan Markle. Naturally, this is a cause for celebration and not at all a cause for crying into a pillow and wishing you were Meghan, and, because this is the internet, the real question on all of our minds is: Who made Meghan Markle's engagement ring? Well, my friends, according to Elle, it looks like Harry designed the ring himself. Yea, you read that correctly: In addition to being a member of the royal family, Prince Harry is also a hopeless romantic with an eye for jewelry that costs more than my education and parents' house.
The stunning ring was designed by the Prince and crafted by Court Jewelers Cleave and Company. The ring includes one center diamond from Botswana and two diamonds on either side that come from his mother, Princess Diana's, personal collection.
Harry's engagement is exciting, of course, but it's equally surprising (at least for all of us non-royals). Indeed, though the Prince and his new fiancé have been dating for well over a year, their first public appearance together wasn't until earlier this year in September at the Invictus Games in Toronto. Nevertheless, the two seemed elated when they appeared for the first time as an engaged couple for a photoshoot in front of their apartment at Kensington Palace.
The couple became engaged earlier this year in November, but their engagement was ~officially~ announced via press release on the morning of November 27, 2017. The short and sweet release, which comes from Charles, Prince of Wales, reads,
His Royal Highness, the Prince of Wales, is delighted to announce the engagement of Prince Harry to Ms. Meghan Markle.
The Wedding will take place in Spring 2018. Further details about the wedding day will be announced in due course.
Hi Royal Highness and Ms. Markle became engaged in London earlier this month. Prince Harry has informed Her Majesty The Queen and other close members of his family. Prince Harry has also sought and received the blessing of Ms. Markle's parents.
The couple will live in Nottingham Cottage at Kensington Palace.
Of course, members of the royal family are thrilled for Harry and Meghan, and messages of their excitement quickly followed the couple's engagement announcement. Prince Charles and his wife Camilla, the Duchess of Cornwall, kicked things off by saying, "We're thrilled. We're both thrilled. We hope they'll be very happy indeed."
Their message was followed by a tweet from The Royal Family's Twitter account, expressing the excitement of the Queen and Duke; their message reads, "The Queen and The Duke of Edinburgh are delighted for the couple and wish them every happiness."
Of course, Harry's brother William and his wife, Catherine the Duchess of Cambridge, who have been married since 2011, released a statement of their own, as well, in which they say they are "very excited for Harry and Meghan," and that "It has been wonderful getting to know Meghan and see how happy she and Harry are together."
Meanwhile, Prime Minister Theresa May says in her own statement: "This is a time of huge celebration and excitement for two people in love and, on behalf of myself, the government and the country, I wish them great happiness for the future."
Ms. Markle is an American actress, best known for her roles on shows like Suits and Fringe, and she is also biracial. Like every member of the royal family, Meghan's parents are thrilled about her engagement to Prince Harry; they say in a statement of their own,
Our daughter has always been a kind and loving person. To see her union with Harry, who shares the same qualities, is a source of great joy for us as parents. We wish them a lifetime of happiness and are very excited for their future together.
As of right now, it looks like The Royal Family hasn't tweeted out any of the hundred congratulatory messages I've sent to them, so I'll say it here: Congratulations, Harry and Meghan, we're all excited for you and we can't wait to hear more about your wedding day.