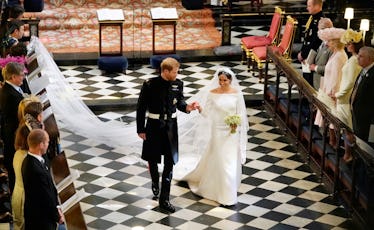 These Royal Wedding Memes Will Make You Laugh & Cry At The Same Time
WPA Pool/Getty Images Entertainment/Getty Images
Since we've been in the internet age, it goes without saying that a momentous event inspires a total slew of fantastic memes. On May 19, Meghan Markle and Prince Harry said "I do" in front of the entire word, and these royal wedding memes prove that everyone enjoyed the regal affair to the fullest. Oh Twitter, how I love thee.
Since the couple announced their engagement in November 2017, we all eagerly awaited the moment that Meghan Markle would walk down that aisle. Well, on May 19, the moment finally happened, and it was everything I imagined it would be. From her two beautiful dresses, to Prince Harry's whispered "I'm so lucky" at the altar, viewers everywhere were completely transfixed by the love shared by this royal couple. Of course, any big day is going to inspire jokes from across the world, and Meghan Markle and Prince Harry's royal wedding is no different.
It's definitely the candid, subtle moments that inspire the best the Internet has to offer. After the newlyweds exchanged their nuptials and walked out of St George's Chapel, the two drove off in a picturesque carriage ride. However, it was the sideways glance Markle threw that had Twitter completely screaming.
Then, Markle and Prince Harry looked up into the sky and seemed very excited at something they saw. Naturally, Twitter had a few ideas of what it could have been.
I'm not surprised that Meghan Markle is the main inspiration behind all of these memes. After all, she really was the star of the show. However, being able to see all the fabulous guests enjoying their time at the royal wedding is always a fun time too. From Pippa Middleton to Princess Charlotte, the guest list for Meghan Markle and Prince Harry's shindig was truly full of A-listers. Of course, Twitter had plenty to say about everyone's outfits, Pippa Middleton's especially.
Seeing all these memes is just another reminder that the royal wedding weekend is actually over. I never thought this day would come. It feels just like yesterday that the Clarence House announced Markle and Prince Harry's engagement in November 2017 through a public statement.
The statement read,
His Royal Highness The Prince of Wales is delighted to announce the engagement of Prince Harry to Ms. Meghan Markle. The wedding will take place in Spring 2018. Further details about the wedding day will be announced in due course. His Royal Highness and Ms. Markle became engaged in London earlier this month. Prince Harry has informed Her Majesty The Queen and other close members of his family. Prince Harry has also sought and received the blessing of Ms. Markle's parents. The couple will live in Nottingham Cottage at Kensington Palace.
Can y'all believe that was so long ago? It's truly been a wild ride. Since news of the engagement surfaced, the royal family would tease the public with glimpses of royal wedding details. Even though we were able to hear little details about Markle's dress, the ceremony flowers, and post-wedding plans, nothing compared to actually watching the royal wedding in full swing. I wish we could do it three times over again.
So Markle and Prince Harry are officially wed, now what? According to a May 4 tweet from royal wedding expert, Omid Scobie, the couple doesn't immediately plan to jet off for their honeymoon.
Scobie wrote,
The couple won't immediately go on honeymoon. Instead they'll attend an engagement the week after the wedding and then go away. Work is clearly a huge focus for the couple and the second half of their year "is going to be incredibly busy." Can't wait!
The royal wedding may be over, but rest assured that Twitter will always be there to churn out a fabulous meme no matter what.