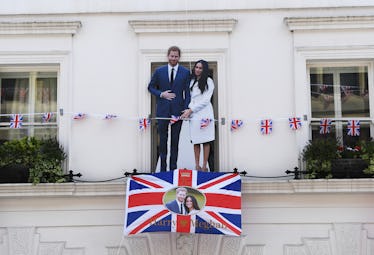 Prince Harry & Meghan Markle Left Their Own Wedding Ceremony, But There's A Reason Why
Shaun Botterill/Getty Images Entertainment/Getty Images
Well everyone, it's the day we've all been waiting for. From the dress to the flowers, every single bit of Meghan Markle and Prince Harry's wedding was absolute perfection. Even though it looks like a Disney fairytale, there's still some serious business taking place during the ceremony, and for a quick moment, Harry and Meghan left their wedding to go sign something very special. The couple is so official.
According to the royal wedding program, Meghan Markle and Prince Harry perform the Signing of the Register, which is basically the U.K.'s version of a marriage certificate. By signing registers, Markle and Prince Harry are officially man and wife, and I'm emotional about it.
To be honest, I actually cannot believe that Markle and Prince Harry are officially married. I never thought this day would actually come. The couple announced their engagement in November 2017, and it's felt like a lifetime leading up to the couple saying "I do." The Clarence House released an official statement announcing the engagement, and told the public the two were to be wed in 2018.
The statement read,
His Royal Highness The Prince of Wales is delighted to announce the engagement of Prince Harry to Ms. Meghan Markle. The wedding will take place in Spring 2018. Further details about the wedding day will be announced in due course. His Royal Highness and Ms. Markle became engaged in London earlier this month. Prince Harry has informed Her Majesty The Queen and other close members of his family. Prince Harry has also sought and received the blessing of Ms. Markle's parents. The couple will live in Nottingham Cottage at Kensington Palace.
Can y'all believe that was back in 2017? It's been a wild ride, folks, and I'm happy we got to share Markle and Prince Harry's beautiful day together.
Even though we were able to get a little bit of insider info leading up to the wedding, nothing compared to actually seeing this shindig go down. One thing is for sure, this wasn't your average royal wedding and Markle isn't the typical bride. Just seeing her standing at the altar with her bridal party was a beautiful moment, but one thing was definitely missing. On May 4, a palace spokesperson spoke to People about Markle's bridal party, and revealed that she wouldn't have a maid of honor by her side.
"She has a very close-knit circle of friends and she didn't want to choose one over another," the palace spokesman said. "All have been actively involved in helping her prepare for the day and will be there in the days beforehand."
Honestly, Markle didn't need anyone standing at that altar with her. Taylor Swift, Tyra Banks, and Chrissy Teigen could have been her bridal party and Markle still would have stolen the show. In fact, was Prince Harry even there? I didn't seem to notice.
So Prince Harry and Meghan Markle are officially married. Even though the average couple would ride off into the sunset to jet off to their honeymoon destination, Markle and Prince Harry have other plans. According to royal wedding expert, Omid Scobie, the newly married couple won't be enjoying their honeymoon immediately. Scobie took to Twitter on May 4 to share some details about the couple's post-wedding plans.
"The couple won't immediately go on honeymoon," he wrote. "Instead they'll attend an engagement the week after the wedding and then go away.'"
I wonder where the lovebirds will head off to? Something tropical? Perhaps a cabin in the woods? I'm sure it'll be a romantic trip either way. Bon voyage you love birds.
Well, I guess all good things must come to an end. That's a wrap on the royal wedding, folks. Don't fret though, there's still these fabulous Meghan Markle and Prince Harry swimsuits you can buy and feel like royalty all summer. You're welcome.