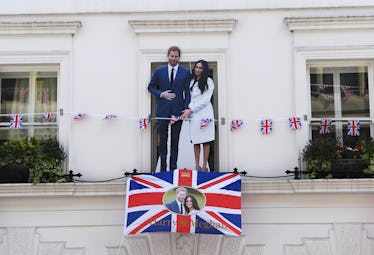 This Royal Wedding Program Typo About Meghan & Her Dad Is So, So Awkward
Shaun Botterill/Getty Images Entertainment/Getty Images
Let's be honest, it wouldn't be a wedding without an awkward moment. Well, the official royal wedding program typo still lists Meghan Markle's dad in the wedding even though it's been reported that he won't be attending the shindig. Yikes.
On May 18, just a day before Meghan Markle and Prince Harry will say "I do," the Kensington Palace took to Twitter to share the official royal wedding program. At first, everything looks normal, but upon closer inspection you'll find that the program states that Markle's father, Thomas Markle, will walk his daughter down the aisle. However, on May 18, TMZ reported that Prince Charles will actually be walking Markle down the aisle in her father's place. Thomas Markle will be unable to attend the wedding because of his heart surgery on May 16. Elite Daily reached out to a Kensington Palace spokesperson for comment, but didn't hear back in time for publication.
To be honest, it's probably an honest mistake. After all, it was up in the air for a while as to who exactly would be walking Markle down the aisle. At first, Markle hinted that she would want her mother, Doria Ragland, to walk her down the aisle. Then, on May 4, royal website announced that Thomas Markle would indeed walk his daughter down the aisle on the special day. Well, now we're a day before the wedding and once again there's been a change of plan.
Even though it's upsetting that Thomas Markle won't be able to attend the royal wedding, health always comes first. However, there's clearly no bad blood. According to TMZ, Thomas Markle states that he is "honored and grateful" that Prince Charles would be escorting Meghan Markle down the aisle. Markle shared the news that her 70-year old father wouldn't be attending the wedding due to ailing health via a statement on Twitter.
The statement read,
Sadly, my father will not be attending our wedding. I have always cared for my father and hope he can be given the space he needs to focus on his health. I would like to thank everyone who has offered generous messages of support. Please know how much Harry and I look forward to sharing our special with you on Saturday.
Now that Thomas Markle won't be attending the royal wedding, Markle's mother, Doria Ragland, will be the only member of the bride's family in attendance. While it's a bit of a bummer, here's to hoping that Thomas Markle makes a full recovery from his surgery.
I don't know about y'all, but tomorrow cannot get here soon enough. On May 19, Meghan Markle and Prince Harry will finally say "I do" to one another after months of anticipation. The couple announced their engagement in November 2017, and since the royal family has been teasing us with glimpses of wedding details from Markle's wedding dress, the ceremony flowers, the bridal party, and honeymoon plans. Royal wedding expert, Omid Scobie, took to Twitter on May 4 to reveal that the lovebirds don't plan to immediately jet off to their honeymoon vacation.
"The couple won't immediately go on honeymoon," he wrote. "Instead they'll attend an engagement the week after the wedding and then go away.'"
Even though we might have the inside skinny on a few details about this very special day, nothing will compare to watching Markle walk down that aisle looking undoubtably stunning. Even though Thomas Markle won't be able to attend, there's no doubt that he'll be there in spirit and is wishing his little girl all the well wishes in the world.
Here's to wishing the royal couple an early congratulations!