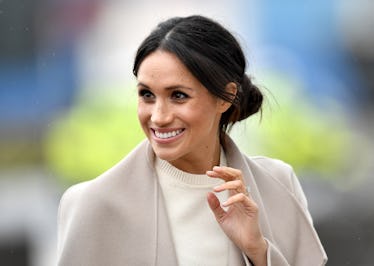 Meghan Markle's Mom Just Revealed This Huge Hint About Her Wedding Dress Designer
Charles McQuillan/Getty Images Entertainment/Getty Images
Is there some big event happening this weekend? In London, maybe? Oh right, Meghan Markle and Prince Harry are getting married! There have been some dramatics surrounding much of Markle's family attending the event but the mother-of-the-bride is definitely on the list. And Meghan Markle's mom, Doria Ragland, could have inadvertently revealed her wedding look while en route to to the land of Brits.
The drama with Markle's father, Thomas Markle, has been confusing, to say the least. Markle's dad staged paparazzi photos and exploited his daughter's fame, questions arose if he would still attend the wedding and then Markle's dad had a heart attack and was unable to travel. The timing was funny but a person's health is always first priority so I'll give him the benefit of the doubt. There's been a lot of back and forth about whether or not Markle's dad will walk her down the aisle, and while the world may not find out until said walk occurs, one thing Markle has been open about is her close relationship with her mother.
Ragland currently lives in California, and on May 15, she made her way across the pond for Markle's nuptials which are merely days away. Speculation about Markle's wedding dress has reached almost immeasurable proportions, but another look I'm eager to see is Ragland's, and she may have just revealed part of it.
Markle's mother was photographed leaving her house on her way to Los Angeles International Airport, presumably to catch a flight to London. Ragland was carrying more than the average traveler's carry-on though, her standout accessory was a Burberry garment bag. And you should care, why? Because it might be her outfit for her daughter's wedding!
Burberry is a British fashion label, headquartered in London, so it would be a smart choice for Ragland to pay homage to her daughter's new hometown. Plus, it would make sense that Ragland chose to hand-carry her ensemble and not trust those pesky airlines with potentially losing it. Per my own fashion knowledge, and regrettably no insider royal family information, Ragland likely had fittings at one of Burberry's California outposts to make sure her garments were well-tailored for her. She then seems to have chosen to travel with the look herself as opposed to having it shipped or put in a checked bag. Smart lady.
A typical mother-of-the-bride already has a few rules to follow: Don't wear white, don't clash with the bridal party, don't wear anything too flashy, and probably make sure the bride approves of the final pick. Ragland, however, has even more royal wedding dress code rules to adhere to. Kate Middleton's mother, Carole Middleton, knows the ropes. She wore an appropriately stylish pale blue Catherine Walker dress and coat with a matching Jane Corbett Millinery hat to her daughter's wedding to Prince William in 2011. Carole's jewelry, clutch, and hat were all inline with the royal dress code while still managing to show off a bit of personal style.
So what are all the rules? Markle's mother, along with all other royal wedding guests, must wear a hat or fascinator, though hats are much preferred, and of course make sure it doesn't obstruct the view of nearby guests. Ragland and other attendees must also forego any flashy jewelry or other accessories, basically anything that would take the attention away from Markle, the queen, or anyone else of higher rank.
Though not a royal wedding, Carole Middleton followed these same guidelines at her daughter Pippa's ceremony, as well. Carole wore another Catherine Walker ensemble and a pale pink Juliette Millinery hat. She also covered her legs by wearing a pair of stockings, another royal wedding rule.
All in all, Markle's mother would be smart to take a cue from this seasoned mother-of-the-royal-bride, and with having an established design house such as Burberry on her side, I can't wait for the big reveal.