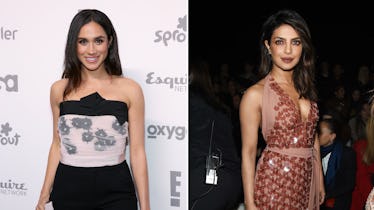 Priyanka Chopra Revealed Meghan Markle's Reaction When She Chose Her Wedding Dress & OMG
Robin Marchant/Jamie McCarthy/Getty Images Entertainment/Getty Images
The only thing I love more than the royal wedding is when friends close to Meghan Markle reveal small truths about the royal wedding. My forever dream girl Priyanka Chopra tried VERY hard not to spill any details about the upcoming royal wedding while sitting down with Andy Cohen onWatch What Happens Live Thursday, May 3. But what she couldn't say with words, she did say with facial expressions, and the world got to learn quite a few things about Meghan Markle's upcoming nuptials to Prince Harry. According to Chopra, Meghan Markle cried when choosing her wedding dress, and my heart is now going to explode in a million tiny little pieces.
I have to hand it to Priyanka Chopra though, because she really did her best not to let any royal secrets out — but when you've got people grilling you and watching you for ANY sign of truth to a statement, I'd imagine that's very hard to hide. And that's exactly what Andy Cohen did.
Cohen told Chopra that he "didn't want to get her in trouble with the royal family" but did need to ask her a few questions about the upcoming royal wedding. Inquiring minds need to know, y'all. "You don't have to say a word. If you can't answer the question, I'll guess the answer based on your facial expression," Cohen said.
It's all fun and games until Andy Cohen watches your every move.
Chopra was grilled about a lot of things, and really attempted to keep her composure throughout, but got called out for pretty much every non-response she gave.
She admitted that she's never hung out with them as a couple (that makes two of us), and gave something of a shrug when asked if Markle was "a bridezilla," but Cohen came to Markle's defense, saying that he thinks she's probably "grateful," so that's cute.
But get this: When Cohen asked Chopra if she's seen Markle's wedding dress, she gave the look of, "So what if I did?," and SPILL THE DETAILS, GIRL, WHAT ARE YOU WAITING FOR?
Fine, fine. I get that you can't tell us anything, but this is really killing me right now.
When asked, "Do you know if she cried when she said yes to the dress?," there was no hiding Chopra's reaction. She smiled, looking at Cohen knowingly, and tried to hide her face, which is an absolute, automatic, HELL YES SHE DID!
I just need a quick minute, you guys. This is information overload and I'm sweating just a little bit (but in like, a good way?).
You can watch the whole glorious interview here, and I highly suggest you do so if A) you love royal wedding details and B) you love Priyanka Chopra's face:
It turns out that Meghan Markle and Priyanka Chopra are sort of besties, after meeting in July 2016 at a dinner that celebrated Women in TV. Markle spoke to India West about her friendship with Chopra and said that the two just "clicked":
And you know when you meet someone and you just 'click'... It was just an easy, natural progression. We've managed to keep in touch via email and text, and try to see each other whenever we're both in the same town.
That's *sort of* how I wish things would be for me and Priyanka, but I just don't think we're there yet.
And Chopra has nothing but kind words in return for her friend. Her essay about Meghan Markle in TIME magazine's annual 100 Most Influential People list will actually make you cry, calling her compassionate, inspiring, and a "princess for the people":
Her compassion, evident in the causes she supports, and her drive to break down stereotypes—obvious in her actions—will connect her to a generation in much need of kindness ... People the world can be inspired by. Meghan, standing shoulder to shoulder with Harry, will be a princess for the people.
That is serious friendship goals right there.
A big thank you to Priyanka Chopra for somewhat accidentally revealing some royal details. We love you for it, and hope to see you on May 19 celebrating with your BFF.