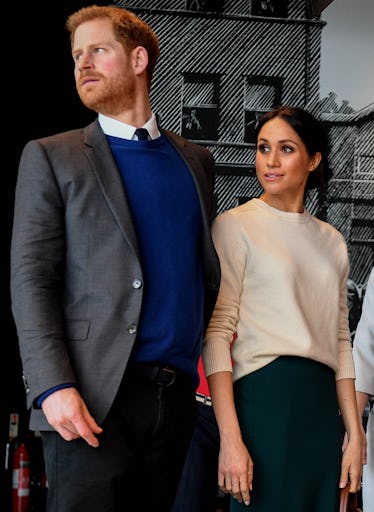 Tweets About The Royal Wedding Show The World Is Ready For The Big Event
Pool/Getty Images Entertainment/Getty Images
What is it that people love so much about the royal wedding? Is it the fact that we can escape into the scandalous lives of Britain's elite? (See what I did there?) Or is it that somewhere, deep down, we all secretly crave tradition and world order? Or! Is it that we still can't believe Meghan Markle, an American, snatched Prince Harry, while the rest of us have to right swipe on Tinder to meet a "prince charming" (read: guy who at least has a job)? Either way, there's no denying that the world is excited, and tweets about the royal wedding show that fans are taking a front seat to all the action — from the guest list, to the food, to the latest news of who will be walking Meghan down the aisle.
It was announced by Kensington Palace on May 18 that Meghan Markle will be walked down the aisle by Prince Charles at St. George's chapel. Markle's father recently suffered health issues that prevented him from attending the royal wedding on Saturday, May 19. Updates keep sneaking out of the Palace's Twitter account as the event gets closer and closer, and fans are hanging on to every one of them.
Some People On Twitter Are Talking About The Decision To Walk Down The Aisle With Prince Charles
Many fans pointed out that Meghan and Harry are breaking so many royal wedding traditions already (including having a weekend wedding, and Meghan's divorced status, among others), so it doesn't make sense why a man "has to" walk Markle down the aisle. Given her close relationship with her mother, Doria Ragland, fans pointed out that it should be Ragland who walks her daugher down the aisle.
Other Tweets Show That The Celebrations Have Already Begun
It seems, on Twitter at least, that most people are finding themselves feeling more involved in the royal festivities by indulging in British foods and royal-themed sweets. Hey, I stocked up on champagne and bagels (sorry, I can't do scones and tea), so I get it. We all want to feel like we're partying in our own little ways.
People Are Thrilled Prince Philip Is In Good Health And Will Be Attending.
Real talk, though, how is he just a prince but he's married to the queen? I don't understand how any of these royal titles work and, yes, I've seen The Crown.
Some People Are Getting Creative With Their Appearance For The Royal Wedding
Honestly, I completely understand the whole "any excuse to wear a fascinator" bit. I wish I had one. Remember how elegant Victoria Beckham looked in her fascinator at William and Kate's wedding? I'll provide that throwback for you here:
It looks like everything is in place for the royal festivities taking place Saturday, May 19, in London. For those watching from the East Coast, you can tune in at 7 a.m. to catch the beginning of the ceremony, and those in the West Coast should set their alarms to wake up at 4 a.m. Honestly, at that point, you might as well just stay awake from your personal royal wedding party from the night before. The world likely won't have another huge royal wedding celebration until one of William and Kate's children gets married, so tune in in the early hours of the morning to be a part of history.
If nothing else, there will be lots of memes, tweets, and beautiful looks that will keep you interested. An American is becoming a royal, people! Pop the champagne and toast your scones because it's going to be a big day.