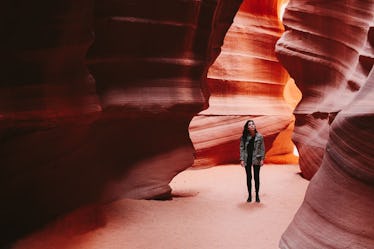 These 7 Otherworldly Places Have Sand & Rocks That Look Like Actual Waves
Surf's up! Well, not exactly. Rock and sand formations that are shaped like waves are a wonder on this Earth, but they surprisingly don't have much to do with the ocean. In fact, they'll require your best hiking boots and a couple of water bottles opposed to those flip flops and bikinis. You'll probably want to leave the beach bag behind, and swap out the sea for some days in the desert. For those of you who are trying to be more adventurous, it's truly a dream come true. Truth is, as much as you love the beach, these otherworldly places with sand and rocks that look like waves are much better additions to your bucket list. Seriously, though — leave your board behind.
Essentially, sand waves are solidified ripples in rock that have formed over time. Thanks to the wind and water, the sand was moved and eventually created new surfaces that are nothing short of stunning. According to MyUtahParks.com, they're typically red, pink, yellow, or white, and can be found most commonly in places like Arizona and Utah. From the second you start hiking, you'll be in awe over the swirls below your feet and how the natural world was able to create something so unique and full of beauty.
Now, if you haven't already been convinced that some sand waves are a must for your bucket list, think about the social media opportunities. Among the cliffs and canyons, you'll be able to capture some unreal shots and channel your adventurous side. These seven spots are exactly where you'll want to be.