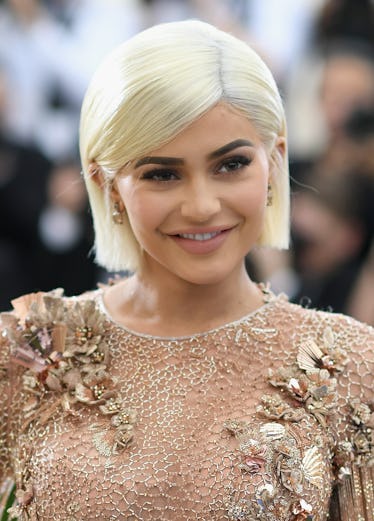 Kylie Jenner Took Selfies With Stormi Webster & The Photos Are SO Adorable
Dimitrios Kambouris/Getty Images Entertainment/Getty Images
STOP EVERYTHING THAT YOU ARE DOING. This is more important than literally anything in this world. Are you at work? Go home. Are you at home? Sit down, because I don't know if you are you ready for this. You guys, there are photos of Kylie Jenner and Stormi Webster taking selfies on Instagram, and you will actually CRY because the photos are so damn cute. Since Stormi has arrived, Kylie has been kind enough to show the world a few photos and videos of her daughter. Some are zoomed-in on an adorably little baby body part, others are a bit further away and give us a better look at Stormi. But these selfies... these actually deserved an award.
And honestly? I'm just thankful that Kylie is back on social media, because for what felt like an eternity, she remained radio silent on Instagram, Snapchat, and Twitter, only coming on to occasionally post something, leaving fans wondering whether or not she was actually pregnant. But, since announcing on Feb. 4 on Instagram that she had given birth, we finally have been seeing a more active Kylie, obviously showing off the cutest baby in the entire world.
So let's take a look at this selfie photo shoot, shall we? She captioned the post, "stormiiiiiiiii🖤" and it is cuteness overload.
LOOK AT HOW PURE:
My heart. It hurts from how cute these photos are.
Nothing beats Kylie's Instagram post announcing why she remained so quiet on social media while she was pregnant, and of course, we totally forgave her. She wrote:
I'm sorry for keeping you in the dark through all the assumptions. I understand you're used to me bringing you on all my journeys. My pregnancy was one I chose not to do in front of the world. I knew for myself I needed to prepare for this role of a lifetime in the most positive, stress free, and healthy way I knew how. There was no gotcha moment, no big paid reveal I had planned. I knew my baby would feel every stress and every emotion so I chose to do it this way for my little life and our happiness. Pregnancy has been the most beautiful, empowering, and life changing experience I've had in my entire life and I'm actually going to miss it. I appreciate my friends and especially my family for helping me make this special moment as private as we could. My beautiful and healthy baby girl arrived February 1st and I just couldn't wait to share this blessing. I've never felt love and happiness like this I could burst! Thank you for understanding.
So long as we keep seeing photos of Stormi, I won't hold it against her.
I mean, look at this precious little baby:
Ah, yes. The very first photo we saw of little Stormi. Sure, it was basically just her fingers and a blurry cropped-out portion of her face, but it made history as the most-liked photo on Instagram, so clearly the world agreed that this photo is legendary.
Then, Travis Scott posted a photo of Stormi to Instagram on March 3, with a caption that read, "Our little rager !!!!":
And the photo Kylie took when Stormi turned one month old? Glorious. Simply glorious:
How did we get so lucky to see all of this sheer perfection?
And of course, the video of Stormi sleeping on Kylie's Instagram story basically reduced everyone to a puddle of happiness:
So what are we going to see next? Maybe we'll hear her giggle. Perhaps we'll get to watch her roll over. Or maybe we'll be #blessed with a photo shoot of mom, dad, and baby Stormi. The options are truly endless.
Life is just so, so good, y'all.