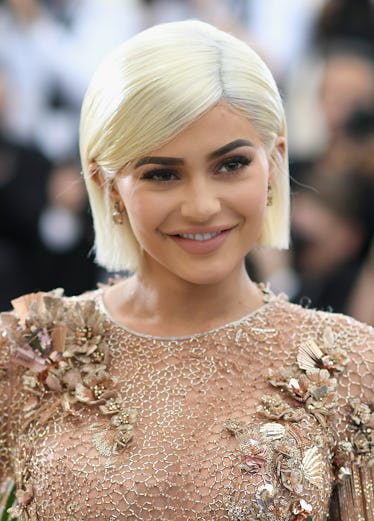 Kylie Jenner Posted A Video Of Stormi Sleeping On Instagram & We're Swooning
Dimitrios Kambouris/Getty Images Entertainment/Getty Images
Today is an amazing day, y'all. No, we still don't have world peace, but we do have something that's super close: Kylie Jenner's new video of Stormi sleeping on her Instagram story. I swear it will have you SQUEALING from cuteness. Like I said, it's not world peace, but it is an adorable baby, so I think that totally counts for something.
In the video, we see little Stormi all bundled up (or is she swaddled? I'm not the best with newborn lingo, so my apologies if I'm wrong) in a white blanket, and Kylie zooms in on her face, and I just about lose it when I see a close-up of her cheeks. She is LITERALLY a little cherub, with chubby cheeks, a little button nose, and the cutest little pout you ever did see. And, while her hair is a bit cut-off in the video, you can tell that she's got some beautiful dark hair (so very Kardashian of her).
We've gotten glimpses of Stormi before, but this video is on an entirely new level, and we have to thank Kylie for sharing this with the world. I mean, you have to see for yourself how adorable Stormi looks:
You guys, this is monumental. We're finally seeing a video of Stormi, and it is everything I have ever dreamt it could be.
Here I thought we were lucky enough when Travis Scott posted a photo of Stormi to Instagram on Saturday, March 3, with a caption that read, "Our little rager !!!!"
This photo was definitely the first time fans got a good glimpse of Stormi in full profile, and we were inevitably shook. We knew she'd be cute, but didn't realize just how cute she'd be.
We are beyond #blessed that Jenner and Scott are giving fans so many photos (and now a video) of little Stormi, especially because of how quiet they kept their entire pregnancy. When Jenner all but disappeared from all social media platforms and rarely made any public appearances, I had almost figured that if she was pregnant, that we'd still be kept out of the loop even after she gave birth.
Fortunately, that hasn't been the case so far, and on Feb. 4, when Kylie confirmed that she had given birth to her daughter, she apologized for not revealing her pregnancy to the public, but felt that this was her personal choice to ensure her and her growing baby's happiness.
She wrote,
I'm sorry for keeping you in the dark through all the assumptions. I understand you're used to me bringing you along on all my journeys. My pregnancy was one I chose not to do in front of the world. I knew for myself I needed to prepare for this role of a lifetime in the most positive, stress free, and healthy way I knew how. There was no gotcha moment, no big reveal I had planned. I knew my baby would feel every stress and every emotion so I chose to do it this way for my little life and our happiness.
Jenner has proved that she won't be keeping Stormi totally out of the spotlight, and the first photo she shared of her daughter actually broke a record for being the most-liked photo in the history of Instagram. #NewbornGoals, amirite?
The photo, for those of you who were wondering, was not even a full shot of Stormi, but rather her hand holding her mom's finger:
Cuteness overload. No wonder it's gotten almost 18 million likes.
And now that we're seeing not only photos of Stormi but videos as well, I think that proves fans will be getting a ton of sneak peeks of the Kardashian's newest addition in the months (and hopefully years) to come.
So thank you, Kylie, for sharing this new video of Stormi. It *sort of* makes up for leaving us in the dark for months on end during your pregnancy. Sort of.