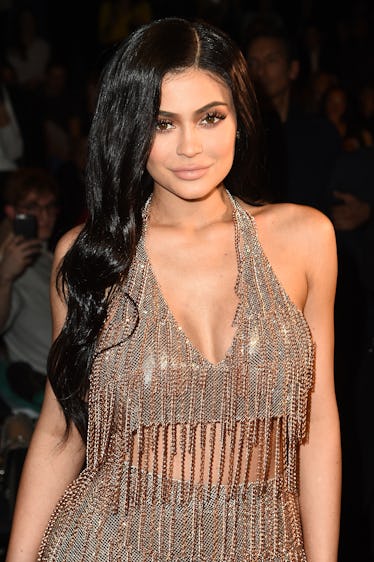 Kylie Jenner's Adorable Sleepy Photo of Stormi Is Our Best Look Yet At Her Face
Nicholas Hunt/Getty Images Entertainment/Getty Images
For those desperately waiting for a peek of baby Stormi Webster's face, your dreams have come true. Kylie Jenner's photo of Stormi sleeping is an adorable first full look at the latest addition to the Kardashian-Jenner family. Be still my heart.
Since announcing on Feb. 4 via Instagram that she had given birth to Stormi earlier that month, the youngest Jenner has been very careful not to share too many pictures of her new baby girl. However, every once in a while Kylie decides to #bless us with an occasional picture, and it appears that today is one of those days. While each photo of Stormi is a treat, this one might take the cake. On March 14 Jenner took to Snapchat to share an adorable image of Stormi, with animated glitter drifting over the sleeping baby, sleeping in a pink, zip-up onesie. Best of all? This is definitely the clearest look we've gotten so far of Stormi's face, and judging from the photo, it's pretty obvious that she's just as beautiful as the rest of the women in her family.
I've never really been a fan of Wednesdays, but March 14 is a great day.
Clearly sleeping is one of Stormi's best angles. On March 6 Jenner also shared a video on her Instastory of a snoozy Stormi. Those cheeks. That nose. I'm not sure I can handle much else.
Just look at this photo and tell me this little girl isn't an actual cherub.
Yeah. That's what I thought.
Since this is arguably the best photo we've gotten of Stormi so far, I wouldn't be surprised if we have to go through another dry spell before Kylie shares another peek. However, she has shared a few other treats for us to ooh and ahh over including an epic mother-daughter photo and a glimpse inside baby Stormi's nursery.
So while the photos are few and far between, for now let's just bask in these treasures.
With all the excitement surrounding the baby girl, this begs the question. Has the world really been the same since Stormi was born? I don't think so.
Kylie Jenner basically rocked my world when she announced via Instagram on Feb. 4 that she had given birth to Stormi on three days prior on Feb. 1. Rumors started spreading that Jenner might be pregnant wayyyy back in September 2017, and with no confirmation or even a hint from anyone, all of us were left in agonizing suspense for months. However, Jenner shared the reason behind her silence in her Instagram announcement, saying that it was important to her to keep the experience private.
She wrote,
I'm sorry for keeping you in the dark through all the assumptions. I understand you're used to me bringing you along on all my journeys. My pregnancy was one I chose not to do in front of the world. I knew for myself I needed to prepare for this role of a lifetime in the most positive, stress free, and healthy way I knew how. There was no gotcha moment, no big paid reveal I had planned. I knew my baby would feel every stress and every emotion so I chose to do it this way for my little life and our happiness. Pregnancy has been the most beautiful, empowering, and life-changing experience I've had in my entire life and I'm actually going to miss it. I appreciate my friends and especially my family for helping me make this special moment as private as we could. My beautiful and healthy baby girl arrived February 1st and I just couldn't wait to share this blessing. I've never felt love and happiness like this I could burst! Thank you for understanding.
We forgive you Kylie. Particularly as long as you keep those photos of Stormi coming.