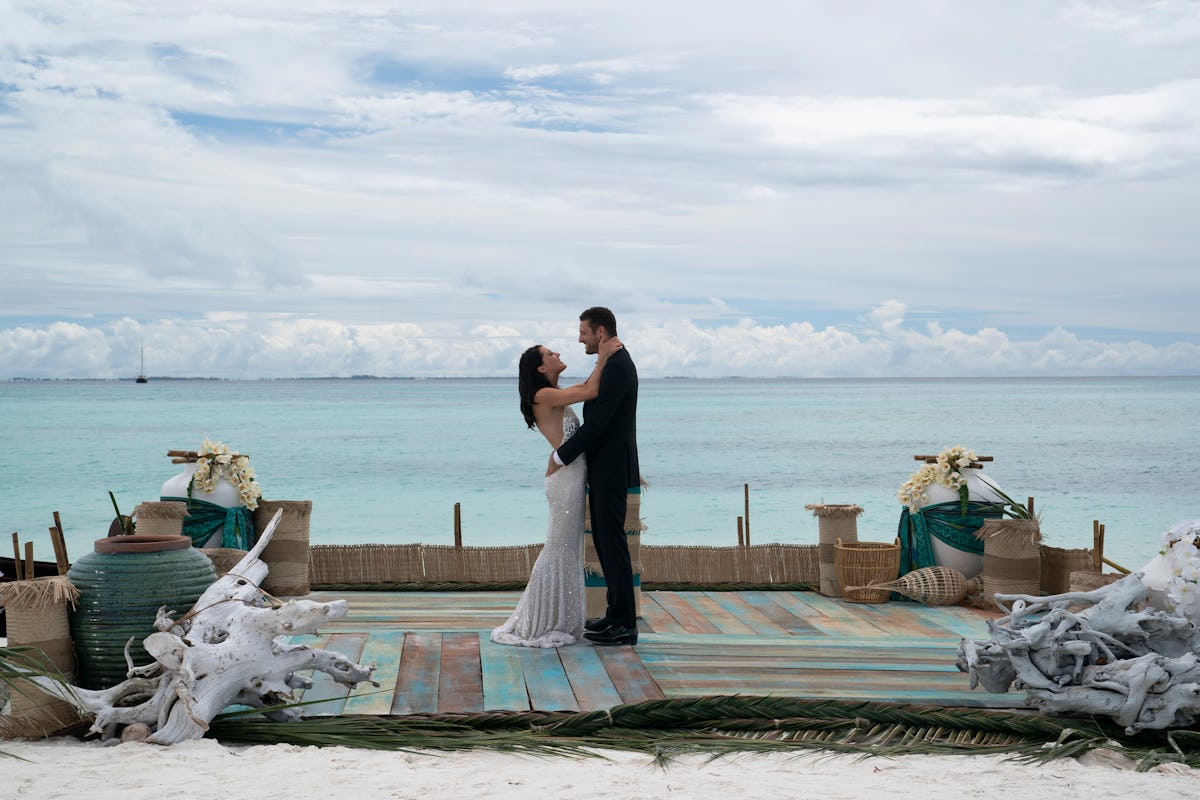 Garrett Really Went For The Gold With 'Bachelorette' Becca's Engagement Ring — All 18 Karats Of It
ABC
As someone who doesn't have the free time (or a cable subscription) to watch shows like The Bachelorette, I am oftentimes out of the loop when my friends gush over the details the following morning. Whenever the truly major moments happen, though, the internet quite literally sets fire, and it's impossible for me to not know what's going on. Case in point: Becca's season finale, which quickly became a trending moment on Twitter and then proceeded to take over my Instagram and Snapchat feeds as well. The photos of Becca's engagement ring were almost as plentiful as the reactions to her choice between the two finalists, and I have been scrolling through both for the past 12 hours. Damn you, Bachelor Nation.
If you're similarly out of the loop and haven't had access to cable or WiFi in the past 12 hours, allow me to bring you up to speed. On the season finale of The Bachelorette, Becca was tasked with choosing between her two potential future hubbies, Blake and Garrett. While every season of the show manages to stir up an army of passionate fans, this time around, they were particularly invested, as Becca has been through the ringer when it comes to her love life on national television.
When she competed on The Bachelor Season 22 to win over Arie Luyendyk, Jr., he proposed to her, only to later break off the engagement and have the whole thing aired during the season finale. You don't have to watch the show to know that's incredibly upsetting and somewhat traumatizing, so even though I can't fathom why Becca would return to the silver screen to continue her quest for love, I couldn't help but want her to find the real thing this time around.
This time around, Becca chose Garrett as the winner of the show/her heart:
On each season of The Bachelorette, as the finale rolls around, the top two finalists are tasked with working with Neil Lane Jewelry to create the perfect ring with which they can potentially propose to Ms. Bachelorette herself. The brand helps them select the perfect setting and stones to wow their potential bride-to-be, and while every ring up until now has been platinum, Garrett has decided to go for the gold. As in, the ring is gold.
It's not full-on Bruno Mars 24K Magic, but at 18 carats, it's still a pretty major statement in its own right:
Described by the brand as "truly glamorous and elegant," the ring features three oval stones as the main focus, set in 18-carat gold and surrounded by 84 full-cut smaller diamonds around the band itself.
In an interview with PEOPLE about the ring, jeweler Neil Lane gave some insight as to why this ring is so unique in comparison to those that have appeared on the series in the past. "I wanted to make a ring that was totally different than anything I had done for the show before," said Lane. "I wanted to create something very special for Becca, especially considering everything that happened with Arie."
Lane also dished on Garrett's disposition during the ring design process. "You could tell Garrett was genuinely smitten, and just so excited and enthusiastic to be with Becca – he was funny, sweet and charismatic," said Lane. "He took the process of picking out the ring so, so seriously and seemed to enjoy it. He really studied them thoroughly and had a grin on his face, from ear to ear, the whole time."
"Gimme that finger!" were Garrett's eager words as he slid the ring onto Becca's hand after the successful proposal.
Regardless of whether or not I'm a fan of the gold, I am willing to give props to Neil Lane and Garrett for wanting to make a more unique piece to celebrate Becca and the engagement she deserves. That's what it's all about, right?