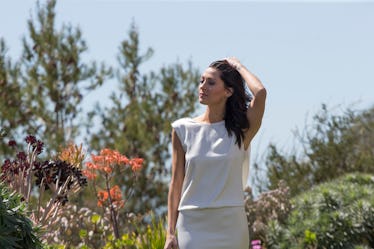 Becca Kufrin Reveals She's Engaged After 'The Bachelorette' & She's Gushing About Her New Man
ABC/Paul Hebert
Even before Becca's Bachelorette season begain airing, the Season 14 leading lady announced that she had found love in the process. She told the world that her time on the show ended in a proposal, but is Becca engaged after The Bachelorette? Now that the finale is around the corner fans are wondering if she and her winning man are still planning on walking down the aisle.
Well, it sounds like she and her final pick might still be going strong. Glamour caught up with Becca and asked how her relationship has evolved two months since her engagement, and she had this to say:
It's just grown exponentially. We've just learned so much more about each other, and it's just grown so much. I'm even happier.
Becca initially broke the news about her Bachelorette success story in May.
"It feels so good to say it and this time, I think it's going to stick!" she gushed to People. "Now looking back, as weird as it sounds, I can really only thank [Arie] because he followed his heart and it allowed me to go on this new journey for myself to find the person who is a better suit, better fit for me. He's just a special one."
Bachelor Nation will get to find out more from Becca herself — and her possible hubby-to-be — on Monday's finale and subsequent After the Rose special. Viewers will finally see if she chooses Garrett Yrigoyen or Blake Horstmann and get some updates on her relationship/potential wedding planning status. And who knows? Maybe there will also be announcement about who the next Bachelor will be.
Last time Becca was at an After the Final Rose taping, she confronted her ex-fiance Arie, who he blindsided her with a breakup on national TV after realizing he wanted to be with Season 22 runner-up Lauren. Then she watched as they got engaged on the spot. It wasn't so bad though — Becca was unveiled as The Bachelorette that very same night and got to meet five of her suitors.
Becca's season has been a rocky one with plenty of tears, controversy, and dramatic arguments among the men, but apparently she has "no regrets" about the choices she's made along the way. She explained to InStyle:
I did everything how I wanted to do it, and I stand by everything I said and did. I was living in the moment. It was hard to hurt people and say goodbye to some genuine and amazing standup guys, but that is the nature of this.
Despite her journey's supposed happy ending, it does appear that Becca wrestled with making a decision between her final two up until the bittersweet end.
"I really can't say with any type of certainty who it's going to be," Becca says in the Bachelorette finale preview.
"I feel like I could be happy with either guy but I don't know what's going to happen to give me any sort of insight," she adds.
The Bachelorette finale airs Monday, Aug. 6, on ABC.