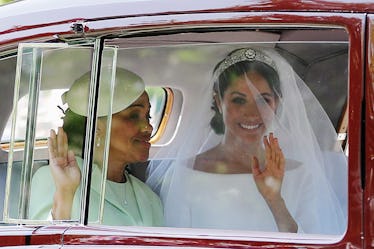 These Photos From Meghan Markle & Prince Harry's Wedding Show How Stunning It Was
Richard Heathcote/Getty Images Entertainment/Getty Images
OK, get ready to bawl your eyes out from joy and happiness because the moment anyone who's ever watched a Disney princess movie (or just generally loves love) has been waiting for ever since Meghan Markle and Prince Harry's engagement was announced has finally arrived: Meghan and Harry are getting married! And, let me tell you, Meghan and Harry's first wedding pictures are going to fill you with so many feelings — you may want to find a box of tissues before you scroll down and observe their beauty. I'm serious. The moment you see
Behold:
Meghan's dress is befitting of a goddess.
Obviously, prior to the big day, there was tons of speculation about what Meghan's wedding dress would look like, with fans speculating early on that she would break all the royal rules with an unconventional dress and more recent reports suggesting that the dress would actually be surprisingly traditional.
From the moment I glimpsed Meghan travelling in the car on her way to St George's Chapel at Windsor Castle, I knew she was going to look stunning.
Unsurprisingly, the dress is gorgeous.
Her veil and train were super long, probably to represent her and Prince Harry's long, happy marriage.
Her makeup is beyond beautiful.
I'm sure Meghan looks like an angel sent from heaven the moment she gets out of bed in the morning, but obviously, she's on a whole new level of shining, shimmering, goddess on her wedding day. As you can see above, she kept her makeup light and natural and her smile is literally the most beautiful sight you will ever see!
And her hair, though!
Early reports suggested that Meghan could show off a down 'do at the wedding since that's what she leans toward in real life, but there were also some whisperings that she'd choose to go the traditionally royal route of styling her hair into a chignon.
Obviously, based on the pic above, she went traditional and it literally looks like a hairdo right out of a fairy tale book. But did you expect anything less?
Prince Harry looks like a stud.
Much like Prince William did at his 2011 wedding to the Duchess of Cambridge, Prince Harry arrived decked out in his full military uniform. He looks so insanely handsome, it's hard to put it into words.
And here he is with his best man, AKA his bro Prince William, Duke of Cambridge.
The Queen looked fly.
Her green dress is absolutely everything!
Look at how Meghan and Prince Harry looked at one another!
The prince looks beyond smitten, which is good considering he's standing next to his future wife.
SO CUTE.
The moment Prince Harry lifted Meghan's veil over her head to reveal her heavenly face had to be one of the sweetest moments in the ceremony.
The horse and carriage are already ready to carry the happy newlyweds off into the sunset.
We already got a first peek at Meghan and Harry's magical looking horse-drawn carriage on May 1. Here's the seriously posh Ascot Landau, which is used in the case of dry weather on the big day:
But the royals are prepared for anything and everything, so this is the Scottish State Coach, which they use in the case of rain.
And it looks like the big day brought dry weather! Woohoo! We're going to be able to watch them ride around with the top down in all their marital bliss!
Meghan is living the fairytale we all dream of and I'm so happy for her, it's not even funny!