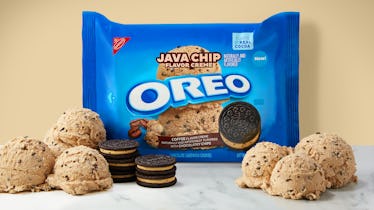 Oreo Is Bringing Back This Fan-Favorite Flavor That'll Remind You Of Summer Bonfires
I'm not sure if Oreo's 2021 resolution was introduce more new flavors than you can keep up with, but just a few months into the new year, Oreo has already graced customers with plenty of new options. If you don't want to miss any of the Oreo action, you may want to take note of these new Oreo flavors for 2021, because most of them won't be around forever. Whether you prefer to eat the creme first or the whole thing at once, some of these cookie flavors might replace your go-to fave.
Oreo is no stranger to a special release. Past Oreo flavors include everything from Carrot Cake Oreos to seasonal options like Peppermint Bark-flavored Oreo cookies. As of December 2020, the cookie brand has unveiled 65 new flavors total since its 100th anniversary Birthday Cake Oreo in 2012, according to The New York Times. If you were to divide that up, that's an average of more than eight new cookie flavors per year. Although it isn't clear how many new Oreo flavors you can expect in 2021, the brand is already off to a delicious start. This post will be updated with new Oreo flavors as they're announced throughout 2021.
While a lot of Oreo's releases for 2021 are limited-time flavors, some of the cookies on the list are here to stay for good. Oreo prices vary by retailer, but you can expect the pricing for specialty Oreo packs to be about $3.67 per package, according to new Oreos available at Walmart as of publication.
We only include products that have been independently selected by Elite Daily's editorial team. However, we may receive a portion of sales if you purchase a product through a link in this article.
1. Java Chip Oreos
Unveiling its Java Chip Oreos on Twitter on Tuesday, Jan. 12, this permanent offering combines a coffee creme and chocolate chips, wedged between two chocolate cookies. You can find Java Chip Oreos grocery stores and retailers like Walmart.
2. Brookie-O's Oreos
On Dec. 29, Oreo announced its limited-edition Brookie-O Oreos on Twitter. The triple-decker bites feature three different layers of creme — brownie, original OREO Stuf, and cookie dough — for a cookie that combines an oreo, a brownie, and a chocolate chip cookie. The Brookie-O Oreos are available for a limited time.
3. Chocolate Hazelnut Oreos
Oreo fans noticed the Chocolate Hazelnut Oreos hitting shelves in January 2021. If Nutella-inspired tastes are your favorite, you'll be glad to know these are a permanent addition to the lineup of flavors. While this isn't the first time Oreo came out with a chocolate hazelnut iteration — the previous release in 2018 featured golden vanilla Oreos sandwiching the chocolate-hazelnut filling instead of chocolate Oreos — it is the first one to stick around.
4. Lady Gaga Chromatica-Themed Oreos
Released in January 2021, the Lady Gaga-themed Oreos featured pink-colored Golden Oreo cookies filled with a green-colored cream, and tasted like Golden Oreos. The Gaga-inspired cookies will hit grocery store shelves on Jan. 28, but they won't be restocked, so you'll want to grab them if you see them.
5. Strawberry Frosted Donut Oreos
Oreo announced the Strawberry Frosted Donut Oreos on hit stores in March 2021. The limited-time bites feature Golden Oreo cookies filled with two layers: one layer of pink strawberry-flavored creme with rainbow sprinkles and one layer of a doughnut-flavored creme.
6. NBA Dynasty Oreos
Mondelēz International, Inc. (aka the parent company of Oreo) announced its partnership with the National Basketball Association (NBA) and USA Basketball on March 10. In celebration, Oreo is releasing a limited-edition NBA Dynasty Oreo pack available at retailers nationwide in late March. The cookies will feature six different designs honoring six of the biggest NBA teams: Boston Celtics, Chicago Bulls, Golden State Warriors, Los Angeles Lakers, Miami Heat, and San Antonio Spurs.
7. S'mores Oreos
The latest Oreo offering is a bit of throwback, considering Oreo first launched a limited-time S'mores flavor in 2015, and re-released them in 2019. After disappearing for a summer last year, S'mores Oreo cookies are coming back for 2021. You can buy them at retailers nationwide for a limited time starting in May 2021, for $5.19 per pack. As a refresher, S'mores Oreos feature graham cracker-flavored cookies and a chocolate and marshmallow cream filling for a bite that'll transport you to a bonfire.
This article was originally published on