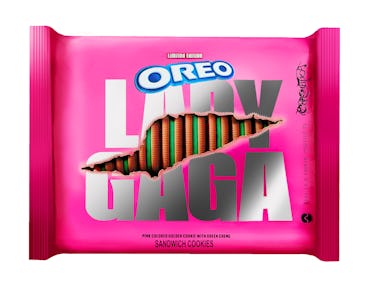 Lady Gaga's 'Chromatica' Oreos Are *Finally* Hitting Store Shelves
Courtesy of Oreo
Oreo announced its Lady Gaga collab in late 2020, but fans have had to not-so-patiently wait for the release of the colorful cookies paying homage to Gaga's latest album. Yep, the fan-favorite chocolate sandwich cookie brand teamed up with Lady Gaga for a fun take on the bites — and they're finally hitting store shelves. With all the Chromatica vibes you could want, here's where to buy Lady Gaga Chromatica Oreo cookies now that they've begun rolling out nationwide as of Jan. 28.
Oreo announced its partnership with Lady Gaga on Wednesday, Dec. 2. Inspired by Lady Gaga's Chromatica, the singer's sixth studio album, the Lady Gaga-themed Oreo cookies come in hot pink packaging and feature pink-colored Golden Oreo cookies filled with a green-colored cream. All the hues are just for show, though, because the cookies taste like the classic Golden Oreo. The outside of the cookies feature one of three different Chromatica-inspired designs, such as a heart design or the Chromatica logo. Lady Gaga shared the news in a video on Twitter on Dec. 2, as she opened what might have been the inaugural pack of Chromatica Oreos.
The brand first launched limited edition six-cookie packs of the Gaga-themed Oreos at convenience stores where Oreos are sold, such as Wawa or 7-Eleven, in early January. As of publication on Jan. 28, there's no pricing available for the six-packs, and they'll be available for a limited time.
Thankfully, as of Jan. 28, you'll also be able to pick up full-size packs of Chromatica Oreos at stores nationwide wherever Oreos are sold. The Lady Gaga Oreos are currently rolling out to stores and will be available for a limited time. Pricing for the pack will be in line with other specialty Oreos, which run about $3.67 per pack.
The Oreo and Lady Gaga partnership will also help you spread some cheer through musical messages with its new Sing It With Oreo, which you can access from the website or from the QR code on specially marked packages of Oreos. Through Friday, April 30, 2021, you can use Sing It With Oreo to send OREOgrams to your loved ones for a chance to win Lady Gaga-themed prizes, and you could even be entered to win a grand prize of a concert and meet-and-greet with Lady Gaga.
If you head out grab the limited-edition Lady Gaga-themed Oreos, remember to follow the coronavirus safety guidelines from the Centers for Disease Control and Prevention (CDC)for grocery shopping as of Dec. 31, which include wearing a face mask over your nose and mouth, practicing social distancing, and washing or sanitizing your hands after leaving the stores.
If you think you're showing symptoms of coronavirus, which include fever, shortness of breath, and cough, call your doctor before going to get tested. If you're anxious about the virus's spread in your community, visit the CDC for up-to-date information and resources, or seek out mental health support. You can find all of Elite Daily's coverage of coronavirus here.
Editor's Note: This post was updated on Jan. 28 to include Oreo's announcement of the rollout of full-size packages of Lady Gaga Chromatica Oreos.
This article was originally published on