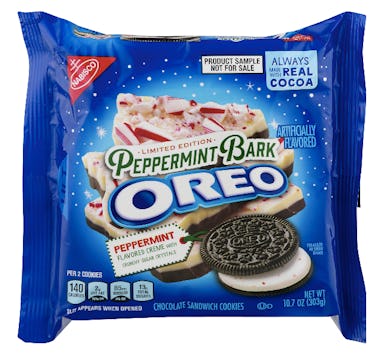 Get Your Hot Cocoa Ready, Because Peppermint Bark Oreos Are Finally Here
Alright guys, I kind of hate to say this, but with spooky season coming to an end, the holidays are quite literally just around the corner. Eek! Aside from all of the impending snow and ice, however, comes the joy that is peppermint bark. The sweet treat is absolutely marvelous on its own, but Oreo recently decided to combine their classic cookie with the festive dessert, creating the ever-delicious Peppermint Bark Oreos. Yes, you heard that correctly — they're finally here, and, let me tell you, they're absolutely delightful. I can already feel it.
Oreo always manages to concoct something new and festive for each and every holiday, and for Christmas 2018, the renowned packaged cookie brand is revamping their old Mint Oreos as Peppermint Bark Oreos. According to Real Simple, each cookie mixes minty, crunchy sugar crystals with Oreo cream, which is then sandwiched between two classic chocolate Oreo cookies. IDK about you, but that sounds pretty delicious to me. Thus far, I've found them on Target and Walmart's websites, and it pretty much goes without saying they'll be the bell of the ball this holiday season. I mean, just look at them. Who knew a mere Christmas cookie could be this gorgeous?
Popular food Instagram account @JunkBanter posted all about Peppermint Bark Oreos upon seeing them at Chicago's Sweets & Snacks Expo. In the caption, the famous foodie said the Peppermint Bark flavor is a total upgrade from OG Mint, but he speculates whether the fudge in the middle would be noticeably different from regular Oreo cream, aesthetically speaking. Regardless of how they look, though, I can tell they're gonna be great.
Junkbanter's Instagram caption said:
At the tail end of the year, Nabisco will refresh their old Peppermint Oreos with a new Peppermint Bark Oreo, featuring crunchy sugar crystals in the creme. It remains to be seen if the creme will be identical, but I've consulted with Santa's big fat ass and we both agree this same concept with a white fudge coating a la White Fudge Oreos would have been the holiest, jolliest choice.
Since these gorgeous cookies most likely won't be available until the very beginning of November (at the earliest, that is), make sure you indulge on Oreo's new Fun Size Oreo Chocolate Candy Bars. They're here just in time for Halloween, and they're "fun-sized" versions of the original Oreo Chocolate Candy Bars. They taste like Oreo cookie pieces mixed with "rich vanilla creme," which are completely coated in European Milka chocolate. The original candy bar has been available since January 2017, and the mini Halloween versions are complete with festive spooky packaging. Needless to say, they're a total blast.
Don't get me wrong — very few things in life can surpass a classic Oreo cookie. However, when combined with one of Christmas' most delightful treats, it's positively unstoppable. Try dipping them in hot cocoa, munch on a few alongside a glass of milk, or simply enjoy them on their own. Regardless of how you decide to enjoy them, though, you have to admit they're about to make this holiday season totally and utterly unforgettable.