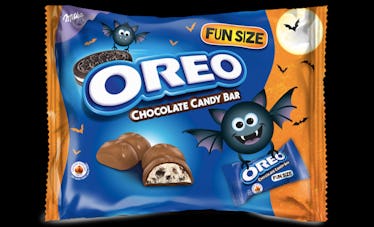 Oreo Is Dropping New Fun Size Chocolate Candy Bars For The Perfect Halloween Treat
Courtesy of Oreo
Could you imagine trick-or-treating as a kid and getting Oreos instead of candy? I'd be a happy camper, because there's nothing like snacking on a sleeve of "Milk's Favorite Cookie." Don't get me wrong: I love lollipops and candy corn, but going from house to house on Oct. 31 in pursuit of Oreos would've made the holiday monumental. Thankfully, the company released a cookie-candy hybrid, and in honor of Halloween, and it'll finally make that possible (to an extent). More specifically, Oreo's Fun Size Chocolate Candy Bars were unveiled on Oct. 3 so chocolate lovers could enjoy the taste of Oreos without carrying packages of 'em in their trick-or-treating bags.
It makes sense, though... right? Collecting actual Oreos on Halloween could get heavy, which is why bite-sized versions of the treat are perfect. The new Fun Size Oreo Chocolate Candy Bars are smaller versions of the original Oreo Chocolate Candy Bars that have been available since January 2017. The "bite-sized" counterparts were released in honor of Halloween, and can be found in stores for a limited time.
FYI: The Fun Size Oreo Chocolate Candy Bars are available in spooky packaging, which is perfect if you're giving them to trick-or-treaters. But if you're trying to snack on them alone on Halloween night, more power to you.
How cute is that design, right?! Between giggling bats and a spooky Halloween moon, a bag of bite-sized Oreo Chocolate Candy Bars is the ideal October purchase. Whether you're planning on giving them away at your doorstep or munching on them by yourself, you'll be in the Halloween spirit in no time.
Regardless of how adorable (and spooky) the candy's packaging is, you're probably wondering what it tastes like. According to an email from Oreo, the candy provides customers with "the same Oreo taste that fans love." Since these bite-sized candies are smaller versions of the original Oreo Chocolate Candy Bars, you can expect Oreo cookie pieces mixed with "rich vanilla creme" that's coated in European Milka chocolate candy. As someone who's tried the original sweet treat, I can attest that it's delicious.
If you're worried about missing these Fun Size Oreo Chocolate Candy Bars once Halloween passes, don't be. According to Oreo, the candies will be available year-round in Original Oreo packaging. But if you'd rather stock up on Halloween-themed packages to keep the "spooky" vibes going, I definitely won't judge you.
If you're into the OG look, take a peek at the Original Oreo packaging that'll be available throughout the year:
Whether you're hoping to stock up on the bite-sized treats for an entire year or just for Halloween, you can find them wherever chocolate candy is being sold. If you're someone who'd rather eat Oreo cookies than candies, though, you should give Apple Pie Oreos a try. The seasonal cookies will remind you of a warm autumn dessert, and are currently being sold in stores for a limited time.
It's obvious that Oreo knows how to celebrate Halloween, and I'll certainly be enjoying the bite-sized Oreo candies and the Apple Pie cookies when Oct. 31 comes around.