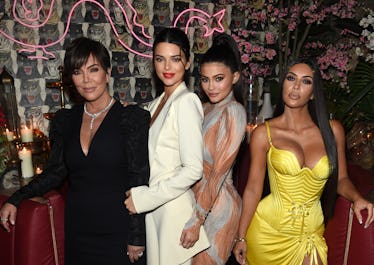 These Kardashian Group Costume Ideas Are Perfect For You & Your Besties This Halloween
Dimitrios Kambouris/Getty Images Entertainment/Getty Images
You'll need more than two hands to count the number of people dressed as the Kardashians this Halloween (not that that's different from any other year). The famous family is a Halloween costume staple, largely because fans can get away with just wearing regular clothes. While we're not going to have it with anyone dressed as pregnant Kylie or Khloés this year (doing that is essentially mocking a pregnant woman's pregnancy and that is a hard no from the jump), there are a slew of Kardashian group costume ideas that'll satisfy all your costume-idea needs.
Fashion Nova really has the Kardashian costume beat on lock. If you're looking for clothes you can wear again outside of the confines of Halloween, they have a wide range of Kardashian-inspired clothes (that the Kardashians often buy for themselves). In the words of Cardi B, they could buy designer, but this Fashion Nova fit. Mind you, there are a lot of affordable ways of recreating the below Kardashian looks for Halloween without finding clothes that are nearly identical to your costume inspiration. But here's how you can turn your favorite Kardashian moments from the last year into a killer Halloween costume.
1. Met Gala 2018 Kardashians
Kim Kardashian, Kylie Jenner, Kendall Jenner, and Kris Jenner all attended the Met Gala this year. If you're looking to do a group costume with your parent and two siblings, this is a perfect idea. Or, you know, the mom of your friend group can just be Kris Jenner for the night. Here are the ways you can create each of the women's Met Gala Heavenly Bodies-themed looks.
KIM KARDASHIAN
Ultra Radiant Sequin Dress - Gold, $55, Fashion Nova
This Fashion Nova dress almost looks as if it was inspired specifically by Kim Kardashian's 2018 Met Gala look. It's pretty much identical to her look, even down to the cross necklace and half-up, half-up down high pony. Other than the color being a bit darker than Kim's gold Versace gown, you can't get much closer to her dress than this.
KYLIE JENNER
Gala Queen Dress - Black, $50, Fashion Nova
Yeah... I think Fashion Nova designed these dresses intentionally. Recreating Kylie Jenner's 2018 Met Gala look is made simple with this black Fashion Nova dress. Pair it with your favorite tiny sunglasses (either the ones in the above photo or ones of your choosing) and you're ready to emulate Stormi's mama.
KENDALL JENNER
Kendall Ruched Jumpsuit - White, $45, Fashion Nova
Yup, this is a series. Shout out to Fashion Nova for being on top of the Halloween game and churning out these nearly identical Kardashian Met Gala looks for all kinds of women. To accomplish Kendall Jenner's 2018 Met Gala look, throw on the above white jumpsuit and wear your hair in a low pony (add some extensions if you want to look exactly like Ken). Add some hanging rhinestone earrings and high heels (seriously, high... just look at the length of those pant legs), and you're ready.
KRIS JENNER
Secret Gossip Feather Dress - Black, $70, Fashion Nova
Kris Jenner's 2018 Met Gala look seems to be the only dress Fashion Nova didn't really recreate (rude). That doesn't mean they don't have a solid option, though. The above dress will get the job done nicely, as it has a similar feather skirt and is mostly black. Kris Jenner's look had gold embellishments and this dress has silver, but that's an OK sacrifice to make. If your heart is set on the gold, you can go with this Fashion Nova black bandage dress with a feather skirt and gold accents. Cannot confirm if Mama Kris will get 10 percent of what you pay, tho.
2. The Business of Fashion "Age of Influence" Kardashians
Equally memorable as their Met Gala red carpet looks were the Kardashians' looks at The Business of Fashion "Age of Influence" celebration on May 8, 2018. Just one night after the Met Gala, Kris, Kendall, Kylie, and Kim attended the Business of Fashion event as the night's arguably biggest influencers in attendance. Here's how you can channel your inner Kardashian/Jenner as if you and your friends were the biggest influencers on the internet.
KYLIE JENNER
Stormy Weather Mini Dress - Multi, $28, Fashion Nova
This fittingly named "Stormy Weather" dress isn't a far cry from Kylie Jenner's Business of Fashion look. Throw on any jewelry and shoes you deem fit, and you're ready to slay.
KIM KARDASHIAN
Stupid In Love Dress - Gold, $33, Fashion Nova
Kim was having a yellow/gold moment during the Met Gala week. Her dress at the Business of Fashion event was in the same family as her Versace Met Gala dress when it came to the cut and general style of the dress. The above dress combines both styles for a look that screams Kim Kardashian.
KENDALL JENNER
Linen-Blend Jacket - White, $28, H&M
Linen-Blend Suit Pants - White, $30, H&M
Kendall Jenner chose to go with all-white outfits for both her Met Gala and Business of Fashion looks. While the former look was more appropriate for a red carpet and the latter was on-point for the "Age of Influence" event, you could honestly wear the above pants with a fancy white top for the Kendall Met Gala costume as well. She wore the blazer sans shirt underneath, but you can throw on a white leo or tank if you so choose.
KRIS JENNER
Carys Bell Sleeve Dress - Black, $33, Fashion Nova
Honey, you will be working for that 10 percent in this dress.
3. Kim, Kourtney, and Khloé Take Tokyo
You know I wasn't going to go through this whole list without including Kourtney and Khloé. The three sisters had some amazing looks during their trip to Tokyo, Japan, as one last hoorah before Chicago West was born and Khloé gave birth to True Thompson. Here's how you can recreate the sisters' looks from the above photo for you and your squad.
KIM KARDASHIAN
Royce Zipper Dress - Blue, $20, Fashion Nova
The Essential Fanny Pack - Black, $10, Fashion Nova
Kim K rocked this look with a long athletic coat overtop, but you can just throw on whatever coat you want, really. The main events of this look are the blue dress and the pink hair. You can find a bubblegum pink wig online or you can employ semi-permanent hair dye for the night. It's up to you! But here are some options for the clothing part of this costume.
KOURTNEY KARDASHIAN
Pearl Perfection Off Shoulder Top - Denim, $17, Fashion Nova
Denim Skirt - Denim Blue, $30, H&M
My favorite look from Kourtney's Tokyo ensembles was her all-denim outfit. She wore a denim long-sleeved crop top and matching denim skirt, so both of the options above are great ways to get that look down. Pair it with a pair of thigh-high black boots and a tiny purse, and you're set.
KHLOE KARDASHIAN
Just The Girl Striped Dress - Mauve/White, $20, Fashion Nova
Faux Fur Hooded Jacket - Pink, $28, Forever21
Khloé K was a vision in pink in her Tokyo photos. She wore a pink fitted dress and a faux fur jacket overtop, so the above options will help you recreate the same look. Throw your hair into a high ponytail and wear your favorite white sneakers, and you'll be lookin' like Koko in no time.