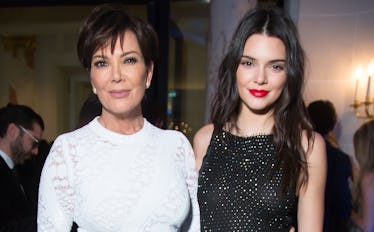 Kris & Kendall Jenner Had A Hilarious Mother-Daughter Moment On The Met Gala Red Carpet
Victor Boyko/Getty Images Entertainment/Getty Images
Kris Jenner never stops being a mom, even on the Met Gala red carpet. Out of her five daughters, three of them attended the 2018 Met Gala together on Monday, May 7, and Kim Kardashian, Kendall Jenner, and Kylie Jenner all came slaying their looks (even if they weren't the most loyal to the whole Christianity theme). Kendall Jenner wore a white Virgil Abloh jumpsuit that some fans trolled for looking like toilet paper, but other fans loved. Kris Jenner met up with her model daughter on the red carpet, and Kris and Kendall Jenner's 2018 Met Gala moment will hilariously make you want to call your mom.
A Met Gala onlooker told Us Weekly that Mama Kris tried to make a small adjustment to the back of Kendall Jenner's jumpsuit while on the Met Gala red carpet, and Kendall whispered back, "Mom, stop!" in a classic mother-daughter moment. Stars! They fight with their moms/daughters just like us! Kris Jenner walked the red carpet with Corey Gamble (whom I legitimately did not know she was still dating, so that was interesting), and she stayed on the red carpet after she walked it so she could watch as Kim, Kylie, and Kendall all arrived.
Kris Jenner looked gorg at the 2018 Met Gala.
She arrived with boyfriend Corey Gamble, who she's been dating for years now and apparently never broke up with. Everything I thought I knew was a lie.
The source told Us Weekly, "When Kylie saw her mom, she let out a big 'Hi!'" Kris reportedly looked "really proud" as she watched Kylie and Travis Scott walk the red carpet together, and then she kissed Travis on the cheek.
Kylie Jenner and Travis Scott walked the Met Gala red carpet together, marking their first Met Gala appearance as a couple.
Do you think she just whispered about Stormi? She probs just whispered about Stormi.
This is the look Kendall Jenner showed up in that Mama Kris tried to adjust.
While some felt the model looked gorg in her jumpsuit, others compared it to toilet paper... and I mean this is the least shady way possible when I say I can see it.
Kim Kardashian rolled up to the Met Gala (without Kanye West) wearing a floor-length gold Versace dress with cross emblems.
If you ask me, this dress (while gorg) looks like it didn't have the crosses on it in the first place. It's like Kim really wanted to wear this dress but knew she had to incorporate the theme somehow, so she was like, "Donatella, let's just, like, throw a couple crosses on it." Whether those crosses were originally on the dress or not, Kim looked amaze.
Kanye West's Met Gala absence was notable, but not surprising, giving the stir he's caused over the last couple of weeks on Twitter. He tweeted a photo of his wife's 2018 Met Gala look and simply made the caption a bunch of flame emojis, and that's when Kardashian revealed the reason he wasn't in NYC with her. Kardashian quoted her husband's tweet and said, "Love you babe wish you were here with meeeeee but you're only finishing up 5 albums," followed by laughing, flame, and heart emojis. Five albums?! Sweet Yeezus.
Khloé and Kourtney Kardashian didn't attend fashion's biggest night, but it's obvious why Khloé wouldn't. She just had a baby! She's busy! It's not clear why Kourtney opted out of the night, but Kris Jenner did talk about how Khloé's doing while she was on the Met Gala red carpet. Jenner told Entertainment Tonight that Khloé's doing "really good" with baby True. She continued, "The best. Yeah, she's doing great. Really, really good." But of course that's what Kris Jenner, momager extraordinaire, is going to say about her daughter's complicated AF life right now. I digress. The Met Gala is one of the greatest nights of the year and nobody can tell me otherwise! OK, byeeeee!