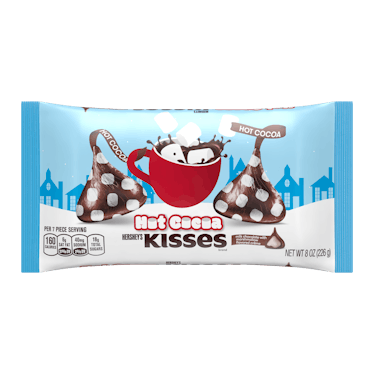 These New Winter-Themed Hershey's Kisses Have Me Feeling So Ready For The Holidays
It's been 10 years since everyone's favorite chocolate company released a seasonal flavor, and this new flavor proves it was well worth the wait. Hot Cocoa Hershey's Kisses are a perfect winter treat, and can I just say I'm ready for the holidays? Sign me up for snacks.
The Kisses are made with a sweet marshmallow crème center and are encased in a hot cocoa plume for the ultimate hot cocoa-flavored treat — no hot water needed (unless you want to use these sweet treats to top off your actual mug of hot cocoa)! This calls for putting on your most festive pajamas and cozying up, because these chocolates are best enjoyed at the end of the cold, late fall or on a snowy winter day. These limited edition bags hit all major retailers on Nov. 1, according to a press release shared with Elite Daily, so grab them quickly as stocking stuffers or holiday treats before supplies run out.
But that's not all you can expect from Hershey's Kisses this year. Hershey's is also releasing Candy Cane Kisses — Kisses with sweet white chocolate shells and peppermint pieces on the inside — and regular Milk Chocolate Kisses that are wrapped in festive holiday foil to spruce up your candy bowls.
If you're still in Halloween mode, Hershey's has you covered there too. Hershey's Spooky Kisses feature the classic candy wrapped in foil with spider web, bat, and ghost art. If you're looking for more variety, Hershey's Halloween Miniatures feature a Halloween-themed bag filled with an assortment of chocolates ranging from milk to dark, perfect if you're sharing with friends and family who have different tastes in sweets. My personal favorite spooky product is the bag of Hershey's Glow In The Dark Milk Chocolate Bars featuring the classic Hershey's bar in glow-in-the-dark wrappers, great for trick-or-treaters and even better for a midnight snack.
Festive holiday takes on classic food and drink seem to be the theme of 2018. Starbucks recently released its Witch's Brew Frappuccino for Halloween, made with toad's breath, swamp fog, and goblin regret (it's true). M&M's also released its own hot cocoa candy with a white chocolate marshmallow-flavored center. And Oreos has blessed us not once but twice with Peppermint Bark Oreos and Oreo Candy Canes, both perfect as stocking stuffers and holiday desserts. For the more adventurous, Archie McPhee's released a line of candy canes that includes flavors like rotisserie chicken, macaroni and cheese, pickle, coal (which is flavored with smoke and cinnamon), and the worst of them all — clam. Maybe save those for the people who have been naughty in your life.
Though Hot Cocoa Hershey's Kisses are the newest holiday flavor to hit the shelves, the company also released a regular flavor in November 2017 — Hershey's Gold. Hershey's Gold was the first new flavor the company had released in 20 years, and the yellow chocolate bar joined the ranks of Hershey's White Cream, Hershey's Dark, and Hershey's Milk, which was introduced over a century ago in 1900. Hershey's Gold is made with caramelized crème and salty bits of peanuts and pretzels for a sweet and savory mashup. With all these new, delicious releases, it makes you wonder what the chocolate company has in store next. Until then, I'll be here enjoying as many Hot Cocoa Kisses as possible. Happy snacking!