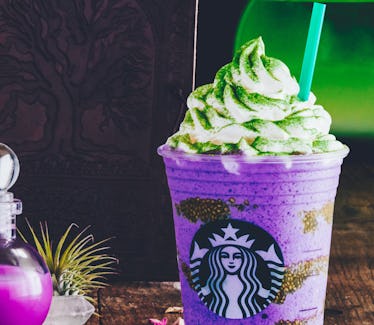 Starbucks' Witch's Brew Frappuccino Tastes Like Orange Crème & Magic
Starbucks
At most Halloween parties, you can usually find me hovering by the snack table, eating myself into a frighteningly glorious food coma. Between loads and loads of candy, pumpkin-spiced doughnuts, maple-glazed everything, and tantalizingly creepy drinks, the word "restraint" pretty much ceases to exist as a part of my vocabulary. This year, though, I know for a fact I'll be filling up on Starbucks' latest and greatest scary drink, the Witch's Brew Frappuccino. Since you're most likely wondering what Starbucks' Witch's Brew Frappuccino tastes like, though, just know that it's incredibly spooky.
Don't get me wrong — Pumpkin Spiced Lattes, hot cider, and maple-spiced drinks are absolutely everything to me. But, just in time for Halloween, Starbucks has concocted the spookiest potion of them all: the purple and green Witch's Brew Frappuccino. According to the press release, the base consists of "toads breath," a majestic purple orange crème-flavored Frappuccino, which is swirled with "bats warts" (better known as chia seeds). It's topped off with sweet vanilla whipped cream, as well as green "lizard scale" powder. Needless to say, it sounds like it tastes exactly like an orange creamsicle, and it's the spookiest (and most festive) Halloween drink a gal could ask for. Just take a look at it for yourself. After just one glance, I am quite literally trembling with delight.
If you happen to live anywhere throughout the United States, Canada, Mexico, or in a select few cities in the Caribbean, you can snag one of these babies for yourself starting Thursday, Oct. 25, according to the press release. Get one as soon as you possibly can, though, because sadly, Halloween doesn't last forever. Yes, you heard that correctly — they'll only be around while supplies lasts. Once Thanksgiving season starts up, that Frappuccino-brewing witch will be well on her way back to Halloweentown.
Maybe you're seeking out a Halloween treat with a little more chocolate, rather than citrus and cream. If that is the case, you should check out Starbucks Japan's Halloween Witch Frappuccino. With a blood-red apple compote at the bottom (yes, you heard that correctly) the rest of the drink is layered with crumbled caramel cookie, milk, chocolate sauce, and, of course, a ton of rich, vanilla whipped cream. I don't know about you, but I would be more than willing to travel halfway across the globe for one of these. It definitely looks way too enticing to turn down.
If you know me at all, you're most likely well-aware of the fact that spooky food and terrifying drinks are totally my thing. To be completely honest, Starbucks is completely nailing it with its one-of-a-kind Witch's Brew Frappuccino this year. Between a mixture of toads breath, bat's warts, lizard scales, and whipped cream, this haunting Frappuccino looks like it's going to be a screaming good time. Just make sure you go and get one before they're all gone, though. Halloween only comes once a year, so you better take advantage of all the themed treats you can get your hands on.