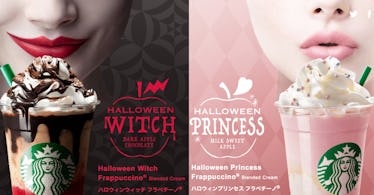 Starbucks' Witch & Princess Frappucinos Are A Spooky Sweet Halloween Treat
STARBUCKS JAPAN
If you're still in the market for a perfect fall getaway destination, you might want to consider booking a ticket to Japan. Not only is the fall foliage and local cuisine rumored to be out of this world (hello, ramen), but retailers are constantly pulling out the stops with incredibly photogenic and delicious treats that you won't see stateside. Case in point: Starbucks' Japan's Witch and Princess Frappuccinos are two new refreshments that are popping up just in time for Halloween, and they're the most Instagram-worthy way to satisfy your sweet tooth. You're going to want to book a flight ASAP and leave your Pumpkin Spice Latte at the door, because spooky 'n sweet has never looked so good.
Starting on Thursday, Oct. 18, residents of Japan can head to their local Starbucks for two scary-good frapps that let you dress up your taste buds by choosing between channeling witchy vibes or princess vibes that day, per a press release. Because I can't read Japanese, I headed to Hypebae for an accurate description of the sips, and they sound completely mouthwatering. According to the blog, both of the beverages feature heavy apple tones, in keeping with that most hallowed of fall and theme park treats, the "candy apple."
That's where the similarities end. At first glance, the Halloween Witch Frappuccino looks like a regular chocolate frapp topped with drizzled chocolate sauce and whipped cream. The only hint of the apple base is the blood red apple compote that's at the bottom. According to Hypebae, the drink is "layered with a crumbled caramel cookie that's blended with milk. Chocolate sauce is then swirled in, before the beverage is completed with whipped cream and more sauce on top."
Meanwhile, the millennial pink Halloween Princess Frappuccino looks more like Starbucks' famous Pink Drink than a festive brew for the scariest time of the year. Per the blog, the apple compote is blended in with milk and white mocha sauce, which imbues the drink with a blush hue as opposed to the witchy red layer seen in its sister beverage. The sweet drink is topped off with fluffy layers of whipped cream and sprinkles that look just like tiny pearls, and it's safe to say that your Instagram game will never be the same if you can get your hands on this photogenic concoction.
Whether you favor witches and ghouls or princesses and angels, you can count on Starbucks Japan to have an option that tickles your fancy (and your tastebuds) during the month of October. For Starbucks Japan customers, that also includes matching Witch and Princess doughnuts, because no Halloween sips are complete without some coordinating bites. Again, both of the doughnuts feature apple flavors, although the Witch version is a chocolate lover's dream with chocolate icing and cocoa cookie crumbles on top. Meanwhile, the Princess doughnut is drenched in layers of petal pink frosting and dusted with faux pearls and glitter for the ultimate millennial snack.
Again, you've got two equally tantalizing options to pick from, and whether you're feeling "pretty as a dress" or in the mood for a "mysterious sweet temptation," I'd recommend double fisting doughnuts and frapps if you're lucky enough to be in Japan for the month of October. After all, I don't see these limited-edition treats sticking around long after Halloween, so I'd take full advantage of these dueling options while you can.