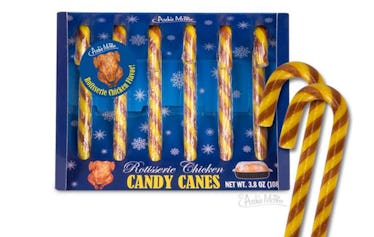 Excuse Me While I Puke Over These Rotisserie Chicken Candy Canes
Courtesy Archie McPhee
Archie McPhee is known for gag gifts and novelty items, but their Rotisserie Chicken Candy Canes may be taking "weird" a little too far. The chicken candy canes, which are not for the faint of heart, are striped yellow and brown to mimic the color of chicken skin. The website ensures that the holiday food really tastes like rotisserie chicken – you know, the food thats supposed to be served with potatoes and beans at dinner, not in your stocking to replace a sweet treat during the holidays. Here's the official description of this dubious holiday food:
Forget the turkey, start a new Christmas tradition, Rotisserie Chicken Candy Canes! Not only does this set of six candy canes have the same color scheme as crispy chicken skin,​ ​but also the same savory flavor with sweet mixed in. Seriously, these taste like rotisserie chicken. (Really,​ ​the​y ​d​o​!) Each candy cane is 5-1/4" tall with roasted chicken-colored yellow and brown stripes.
The candy canes are limited to five orders per customer due to their popularity. If you're just dying to get your hands on weird, non-traditional candy cane flavors and need more than five orders, don't fret — the Seattle-based shop has plenty of strange flavors for you to choose from ranging from Macaroni and Cheese Candy Canes dubbed "comfort food-flavored comfort food" to Coal Candy Canes for those who would rather give smoke flavored treats to their naughty loved ones than actual lumps of coal. For a produce-themed candy cane, you could turn to Pickle Candy Canes. While you're at it, check out the other pickle-themed Christmas items in the shop ranging from the strange Santa Pickle Ornament to the Lucky Yodeling Christmas Pickle. If you want to get even more adventurous than the rotisserie chicken flavor, try Clamdy Canes for, you guessed it, a clam-flavored holiday season. That's going to be a no for me, dawg.
Some of the more palatable candy cane options Archie McPhee carries include Krampus Candy Canes, which seem to just be cinnamon, and Bacon Candy Canes because BACON. That said, I will still always favor good ol' peppermint candy canes. Call me a traditionalist.
If candy canes aren't your thing (especially chicken-flavored ones) you can find other strange and unique treats in the AM store, perfect for stocking stuffers or gag gifts. Individually wrapped Wasabi Candy is great for the sushi lover in your life, or perhaps a good prank you can play on a spicy-food-hater. A pack of frosting-flavored Cupcake Mints will help you "satisfy your sweet tooth, spare your waistline," according to the website. Gravy Candy will work for both Thanksgiving and Christmas. Dissent Mints featuring Supreme Court Justice Ruth Bader Ginsburg will remind you to vote and resist.
Of course, if candy canes are your thing and you want to mix it up without being too adventurous, you could always try Oreo-flavored candy canes, chocolate, caramel, and coffee flavored candy canes, and soda-flavored candy canes ranging from Dr. Pepper flavor to Orange Crush. The holidays are coming up quick, so make sure to grab whatever flavor floats your boat — whether it's chicken or not.