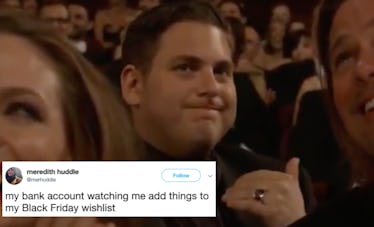 The Twitterverse Is Concerned About Their Bank Accounts On Black Friday & TBH Same
In my opinion, there are two types of people in this world: those who shop on Black Friday, and those who don't. If you're someone who starts their splurging directly after Thanksgiving dinner, I give you so much credit. I, personally, would rather binge-watch holiday movies than romp around crowded department stores — but to each their own. Whether you're someone who's excited for the spending holiday or not, you can probably relate to all of the funny tweets about Black Friday. By the looks of 'em, some people can't wait to visit the mall, while others are very nervous for their bank accounts.
Before I dive into the tweets, let's talk about some of the ways people can take advantage of Black Friday 2018. This might help you realize how inescapable Black Friday actually is — because this year, customers don't even have to leave their couches in order to partake in the deals. For instance, Snapchat recently unveiled a way for its users to shop right inside the app, which means folks can shop and Snap simultaneously once Thanksgiving dinner ends. Additionally, Amazon will be unveiling new sales every hour the week of Black Friday, so online shopping will be totally doable.
Between online sales, in-app discounts, and huge mall events, people have a lot of feelings about Black Friday. Most folks are nervous about their cash flow, while others are excited to splurge.
And by the looks of it, a ton of shoppers are afraid for the well being of their bank accounts.
Others are worried about their bank accounts but still can't wait to shop once Black Friday rolls around. YOLO.
As you can see, lots of people on the internet are nervous for Black Friday because they think their bank accounts are going to be affected by it. Seeing that Black Friday 2018 sales will be taking place online, in apps, and in stores, I'm a little nervous, too. But, hey, 'tis the season for spending — so try not to feel too guilty when you find the perfect sales at your go-to department store.
Speaking of stores, let's talk about a few Black Friday sales that you can take advantage of this year. If you're hoping to visit a department store where you can buy cheap gifts for all of your loved ones, check out Target or Walmart's Black Friday sales. If you're hoping to score some discounted clothes, take a look at Old Navy's post-Thanksgiving discounts. Those of you who are hoping to score some makeup just in time for the holidays should check out Sephora's Black Friday sale. Regardless of what you're looking for, you're sure to find a ton of discounts near you.
If you're worried about your bank account, take a scroll through Twitter and rest assured that you definitely aren't alone. In case you haven't already, set some money aside and prepare for major post-Turkey Day deals.