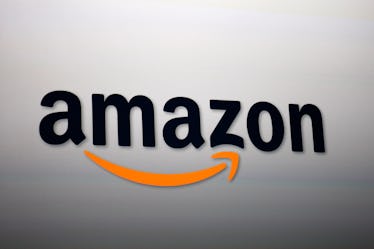 Amazon's Black Friday Sale Isn't Your Typical Post-Thanksgiving Shopping Spree
David McNew/Getty Images News/Getty Images
Black Friday sales usually begin on, well, Black Friday. However, Amazon plays the shopping game a little bit differently. You might have noticed that the online retail giant has been putting various items on sale throughout November — so you could say that Amazon's Black Friday 2018 sale has been ongoing since the beginning of the month. Still, not all items are on sale yet, which means the main online shopping event is still on its way. That's right: The company will surely deliver discounted prices in honor of the shopping occasion, so get ready. Based off the hype about the upcoming sale, you won't want to miss out on the deals.
Unsurprisingly, Amazon has been rolling out Black Friday deals since Nov. 1, 2018, per BlackFriday.com. The discounts have been a part of the company's "Early Black Friday Deals" sale, which features tons of early discounted items that include everything from electronics and toys to Amazon devices and phones. By exploring Amazon's early Black Friday deals, you can also check out various "Deals of the Day," which include discounted items that expire after 24 hours.
Luckily, the countdown to when each item will no longer be on sale is located directly under its price. For instance, at the time of publication, a refurbished iPhone X is on sale from $725 to $829. However, there are only 18 hours left of the sale, so customers who are interested should make their purchase sooner than later. To find more Deals of the Day, check out the first few products listed on Amazon's sale page.
In addition to Amazon's Early Black Friday Deals, the company will also be partaking in a "Countdown to Black Friday Deals Week," per CNET. Apparently, the countdown will officially begin on Friday, Nov. 16, and will feature deals on devices including tablets, Amazon products, and more. So if you're hoping for a new Alexa-controlled device, you might want to wait for Amazon's Countdown to Black Friday celebration and order one when it's on sale.
Now that you know how Amazon's Early Black Friday Deals and the Countdown to Black Friday works, you're probably curious about its actual Black Friday 2018 sale. Per BlackFriday.com, the company doesn't have your stereotypical Post-Thanksgiving shopping timeframe. Instead, Amazon will reportedly be releasing new discounts every single hour during the week of Black Friday. In other words, you'll have to check the website pretty frequently throughout the week in order to find new deals. Something tells me that you're probably going to come across a lot of sales that you didn't even expect, though — so get your wallet ready.
In addition to various deals and pre-Black Friday discounts, Amazon is also reportedly offering free shipping on all orders throughout the holidays, per BlackFriday.com. Therefore, you won't have to worry about spending a certain amount of money while you're doing your Black Friday shopping. With generous discounts like that and ongoing sales, it's obvious that Amazon is the go-to spot for online shopping this season. Whether you plan on spending during the company's pre-holiday sales or during the week of Black Friday, you're sure to come across deals that you won't want to pass up.