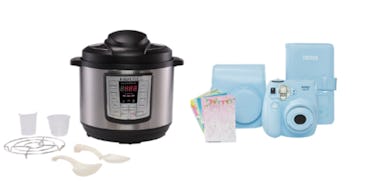 Walmart's Black Friday Deals Include $2 DVDs & $60 Instant Pots For A Cozy Winter
It's that time of year where the deals are in full swing. With just weeks to go until Thanksgiving, many retailers are already releasing Black Friday deals to celebrate the season. You've probably seen some of these deals going around Twitter, but have you checked out the latest from Walmart's Black Friday 2018 sale? If not, don't worry. I've done the work for you and I can say that this Black Friday deal has all the gifts you need this holiday season.
Electronics are always a huge selling item during the holidays. This year, Walmart is chopping prices left and right on some of the most sought-after items of the season. The deals include TVs, cameras, smart home devices, and much more for everyone on your gift list. Seriously, you're going to feel like Santa Claus after shopping Walmart's Black Friday 2018 sale. For starters, let's talk about TVs. You need a good one for those nights when you are catching up on all of your favorite shows. Walmart is selling 65-inch Class 4K Roku Smart TVs for the very low price of $398, per the company's Black Friday ad. You can also purchase a 40-inch 1080p TV for $99. It's not loaded up with Roku, but your wallet is going to be happy about that price point.
P.S. Walmart is selling $20 Roku SE devices during the Black Friday sale. This Roku comes with HD streaming and includes an HDMI cable so you can get to watching right away.
There are other amazing electronics deals to be found during Walmart's Black Friday sale including:
Samsung Chromebook 3, $99 (50 percent discount)
Google Home Mini, $25 ($24 savings)
Fitbit Versa, $149 ($50 savings)
Fujifilm Instax Max 75 Camera Bundle, $55
Samsung Galaxy 7-inch Tab E Lite, $69.99
The deals don't stop there. Walmart's Black Friday 2018 sale includes the Instant Pot for $59. That's a savings of $40. The kitchen appliance has a cult following and for good reason. The pressure cooker can make yogurt, steam rice, and convert frozen chicken breasts into a tasty dinner in just a matter of minutes. I'm not telling you to buy one, but I'm telling you that it's one of the top kitchen appliances I've ever owned. It can also make a great gift for your BFF who just moved into her new place.
To go with the yummy meal you are whipping up in your new Instant Pot, Walmart is selling movie DVDs starting at $2. You can curl up on the couch with a bowl of chicken and dumplings, pop in a new movie, and watch it on your brand new TV, all thanks to Walmart's Black Friday sale. Don't forget to grab a 2-piece Plush PJ Set for $10 while you're at it.
Other notable deals include:
Faberware Digital Oil-Less Fryer, $39.99
Secret Treasures Genuine Suede Slippers, $7
Essential Oil and Diffuser Gift Set, $19.92
7-piece Metal Frame Set $19.92
Sparkle pillows, $5
Eureka PowerSpeed Upright Vacuum, $29
ONN Micro USB Cable, $1
Sony X820 Wireless Speaker, $50
According to CNET, Walmart will open at 6 p.m. on Thanksgiving Day. If you decide to brave the crowds, you can enjoy free coffee and Christmas cookies from Walmart while you shop. If shopping in-store isn't for you (I don't blame ya), then you can shop Walmart's Black Friday deals online starting at 10 p.m. ET on Wednesday, Nov. 21. Happy shopping!