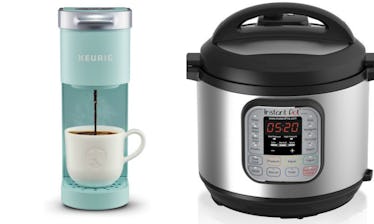 You Can Save $30 On Instant Pots & Keurig K-Minis During Target's Black Friday Sale
Ah, Black Friday. The infamous post-Thanksgiving pilgrimage, when you drag your overstuffed, pie-filled, on-the-brink-of-a-food-coma body to your hometown mall, in an unyielding attempt to snag deals on sweaters, TVs, and various kitchen appliances. You either love it or hate it. But, regardless of how you feel about the (quite necessary) annual shopping trip, Target's 2018 Black Friday deals were just released, and they're definitely worth looking into. There are about to be so many discounts on a variety of awesome brands, and if you know about my love for the beloved department store, you can probably guess that I'm already stoked.
To start, Target's Black Friday electronic deals are pretty hard to beat. In terms of T.V.s, according to Target, you'll be able to snag a TCL Roku Smart HDR UHD TV for only $349.99, which is going to save you a whopping $100, or you can get yourself an Element 55 inch Smart 4K UHD TV for $199.99, which is $180 off the original price. You'll also be able to get your hands on a pair of Beats Solo3 Wireless Headphones in four different colors for $179.99, or Beats Powerbeats3 Wireless Earphones for $89.99, both going for a 55 percent off discount. Plus, if you have Sprint and you buy a new iPhone XS or XS Max between Friday, Nov. 23 at 7 a.m. through that Sunday, you'll be eligible to receive a free $250 Target gift card. Whatever you're looking for in the electronic department, Target most likely has it, for a good chunk off the OG price. Pretty nifty, right?
On the other hand, maybe you're looking to revamp your closet. If that is, in fact, the case, Target is going to be selling a ton of discounted clothing items on Black Friday, per Target's Black Friday page. They're selling $20 Champion sweaters, as well as a variety of T-shirts starting at $4, men's and women's denim for $15, and Wondershop family PJs starting at $10, That's correct — you can get an entire outfit for under $20, plus the content for an adorable family Christmas card on the cheap. If you ask me, each of these deals is literally ground-breaking. Frankly, I need it all.
If spending on your kitchen is more your vibe, though, Target's coming in clutch with awesome home appliance deals. According to their Black Friday page, for $59.99, you can snag a 1000-Watt Ninja Blender, saving you $40 off the OG price. You can also find a 20-piece set of T-fal ceramic cookware for only $49.99, and a KitchenAid Professional 5-quart mixer for only $219.99, which would save you an entire $230. If you can't go without some java, Keurig K-Mini single-serve coffee makers will only cost you $49.99, and Instant Pot Duo 6 quart 7-in-1 Pressure Cookers will be going for a mere $69.95. Yep, if you're all about makin' those meals, make sure you check out Target's discounted appliances this Black Friday. They're gonna be lit.
If going on a Black Friday shopping trip isn't really your thang, however, Target's Black Friday preview sale is going on right now, and they're offering a ton of really solid discounts. You can save on basically anything from Apple watches, to DVDs and even Keurig coffee makers. So, if you're not about shlepping to the store on Thanksgiving night, you should definitely check out this dank pre-sale.
Black Friday is a super important holiday to cheap AF consumers like myself. So, if you're looking for some brand new swag, make sure to get in on all these sales. Like the saying goes, "a little browsing never hurt nobody."