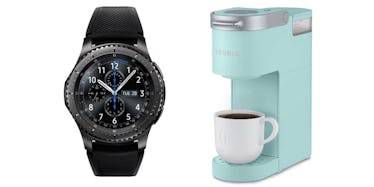 You Can Shop Target's Black Friday Preview Deals Today For Early Holiday Gifts
It's officially November, you guys. I love Halloween, but bring on the turkey, mashed potatoes, and those incredibly deep-discounted shopping deals. In just three short weeks, it will be Thanksgiving Day. But the day after Thanksgiving is my jam. What could it be? Black Friday, of course. It's only the biggest shopping day of the entire year and already Target is getting a jumpstart on deal-seeking holiday. Right now, you can shop Target's 2018 Black Friday preview sale on Thursday, Nov. 1.
There are some legit items included in this sale. Even if you aren't ready to start your holiday shopping, it's worth taking a gander through the Target's Black Friday preview sale in case you see something that catches your eye. The deals are underway right now (!!!), so go check them out as soon as you are done reading this story. Before we get to my favorite part, the deals, let's go over a few of the stipulations surrounding today's deal.
For starters, Target's Black Friday preview sale is only going on Thursday, Nov. 1 and will last until 11:59 p.m. If you're stuck at the office, log on and shop the Black Friday preview sale on Target.com. You can also swing by on your lunch break or way home from work and shop the sale in Target stores nationwide. I'm a big fan of all things Target, but especially the company's mobile app. If you don't already have it on your phone, download it now and start browsing those Black Friday deals.
I'm all for a good deal. It gives me a thrill, that's why I'm so excited about Target's Black Friday preview sale. The sneak peek includes deals on electronics, clothes, kitchen appliances, toys (for your niece and nephew), and more. There are also preview deals exclusively for Target Red Card holders. You can check out the full list of Black Friday preview deals on the Target website. For now, here are some of the top items included in today's Black Friday preview sale:
Not all of these Black Friday preview sale items are super exciting, but that's just a taste of what's to come. You can think of the items included in Target's Black Friday preview sale as a way to prep your space before your family comes to visit you for the holidays. That Keurig K-Mini Single Serve coffee maker is perfect for overnight guests. Oh, and you're definitely going to need a vacuum to make sure your apartment is in pristine condition for mom and dad.
Many of these items included in Target's Black Friday preview sale are at least 50 percent off, so you can expect even deeper discounts on similar products when the actual Black Friday event rolls around on Friday, Nov. 23. Target stores will open at 5 p.m. on Thanksgiving until 1 a.m. on Friday, Nov. 23. If you'll be too full to shop in-store on Thanksgiving Day, not to worry. Target will be opening up again at 7 a.m. on Friday, Nov. 23.
BUT, these deals are only good for today. Consider this your final reminder that these deals are only valid until midnight. Load up your cart and head to the checkout ASAP.