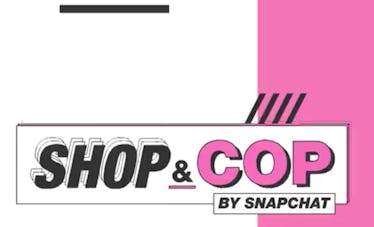 Snapchat Launched A Channel That'll Let Users Shop Black Friday Sales In The App
Courtesy of Snapchat
Black Friday is coming up quick, which means it's time to start planning your shopping escapades. If you're someone who loves crowded malls and jam-packed department stores, you're probably stoked to hop in your car and start spending. But those of you who'd rather shop from the comfort of your own couch might not be so excited. Thankfully, Snapchat is making it super easy for its users to partake in Black Friday deals without having to leave their homes. Heck, they won't even have to leave their Snapchat apps in order to score major discounts. Why? Because Snapchat's Shop and Cop channel is bringing shopping straight to Snap.
I'm not kidding. Snapchat users won't even have to close the app in order to score Black Friday 2018 deals, because a new channel in Discover is bringing the sales straight into Snapchat. The channel is called Shop and Cop, and it's being launched on Friday, Nov. 16 (aka just in time for holiday shopping). Snapchat will officially launch its first sale at 2 p.m. ET with Gymshark, a fitness clothing company for men and women. The sale will only last for two hours — and within that time period, the company will offer 50 percent off apparel. So if you're in need of some new workout gear, keep an eye out for Snapchat's new Shop and Cop channel on Nov. 16.
Once you get a sneak peak at the Shop and Cop channel during its first sale, be sure to subscribe to it so you won't miss the next ones. According to Snapchat, the company will be unveiling even more sales during Black Friday weekend. Between Black Friday (Nov. 23) and Cyber Monday (Nov. 26), Snapchat will feature different sales from retailers that offer beauty products, sportswear, streetwear, and more. A different retailer will be featured every few hours, so make sure you visit the channel frequently during the sale times.
Now, you're probably wondering which brands are going to be featured in Snapchat's Shop and Cop page throughout Black Friday weekend. Although not all retailers were announced, Snapchat made it clear that Kylie Cosmetics will be included amongst a total of about 20 retailers.
So, Kylie, will there be any lip kits on sale? (I'm crossing my fingers.)
If you decide to take advantage of Snapchat's Shop and Cop channel during Black Friday weekend, you'll be able to purchase all of those discounted items without needing to whip out your credit card every five minutes. According to Snapchat, after you've purchased an item, the app will store your payment details. Plus, whenever you shop via Shop and Cop, you'll never need to leave the app. It's literally all done through Snapchat, so forget about having tons of tabs open on your phone.
Between major sales, in-app purchasing, and easy payment methods, Shop and Cop sounds like the go-to destination for shopping during Black Friday weekend. If you'd rather not visit the mall, open your Snapchat app and do your holiday shopping straight from there.