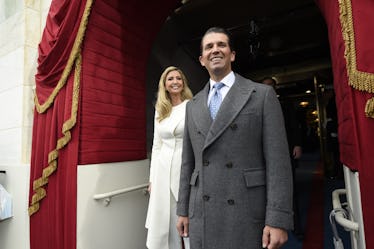 These Donald Trump Jr. Quotes About Ivanka Reveal So Much About Their Relationship
Pool/Getty Images News/Getty Images
As the two oldest siblings in the Trump family, there's bound to be a special bond between Ivanka Trump and Donald Trump Jr. While the eldest daughter has been helping Donald Trump Sr. with his presidency, Donald Trump Jr. has been holding down the Trump Organization alongside younger brother Eric Trump. Even though sibling rivalry is sure to happen among families, Donald Trump Jr.'s quotes about Ivanka prove blood is thicker than water.
Donald Trump Jr. is the oldest sibling in the Trump family at 40 years old, but Ivanka Trump is close in age at 36. The now-first daughter might be the best known to the public, due to her past modeling career in the '90s and then involvement with her father's presidential campaign in 2016. In fact in 2004, Donald Trump Jr. himself openly admitted to New York Magazine that he's flown a bit more under the public radar than his sister in the past.
He said,
When I was younger, I went out of my way to avoid any kind of media attention. To this day, I meet people and they're like, 'I didn't know [Donald Trump] had a son! You mean Ivanka's not the only one?' She did her modeling thing, she was out there a little bit more. But if there was a reporter within 100 miles, I was in the background somewhere, trying not to be seen.
Well, it looks like those times have changed. Since Donald Trump Sr. has taken office, the first family has certainly not been blending into the background. In fact, they've taken it upon themselves to really invest their time in their father's presidency.
So, with all the controversy surrounding Donald Trump Sr.'s presidency, the Trump children make sure to have one another's backs while facing criticism. On July 8, 2017 Donald Trump Jr. took to Twitter to defend Ivanka sitting in for President Trump during a G20 meeting.
Don't mess with the first family, y'all.
It's not that surprising that Don. Jr. is defending his little sister. Being only a few years apart in age, the two are clearly close. Just look at this adorable throwback the oldest son posted on Oct. 30, 2017 in honor of Ivanka's birthday.
Ivanka's talked about her brother too, but, as befits a little sister, mostly in an inspirational, what-he's-taught-me way. "My brother Don is always reminding me that you don't get what you don't ask for," she wrote in her 2009 book The Trump Card: Playing to Win in Work and Life. Despite growing up in a huge public spotlight, the Trump kids weren't out partying Gossip Girl style. Instead, they were out building their empires. Hard work definitely runs in the family, and even Ivanka herself has talked about how her parents have influenced her and her siblings' successful careers during a 2004 interview with New York Magazine.
She said,
Look, none of us are saints. We all like to have fun. But I think our parents have just been pretty tough with us. They've always made sure that we lived within some realm of reality. I don't know how they figured it out, but they knew the perfect way to give us what we needed without it being gratuitous.
It's good to know that even the Trump kids didn't flaunt those silver spoons growing up, even if they're arguably one of the most powerful families in the world right now.
Prior to when Donald Trump Sr. took office, Ivanka Trump held a few positions within the Trump Organization as well as a fashion and accessories line. However, on Jan. 11, 2017 she announced that she would be stepping down from her positions at the Trump Organization in order to assist her father during his time in the White House.
In with the old, and out with the new. However, the Trump family is definitely keeping their business in familiar hands. Now, Don. Jr. is leading the charge in the Trump Organization alongside younger brother Eric Trump, but that hasn't stopped him from voicing his opinions on political matters.
Judging from Donald Trump Jr.'s comments about Ivanka, clearly this family isn't letting the controversy surrounding their father's presidency stop them from caring about one another. After all, keeping family close can really be a way to escape stress.
In the meantime, hopefully the first family will keep posting throwbacks of bowl cut hairstyles and bright hammer pants.