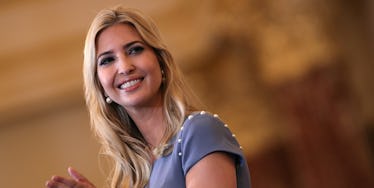 This One Tweet Sums Up The Big Problem With Ivanka Trump At The G20 Summit
Win McNamee/Getty Images
Normally, sitting in a chair wouldn't be so controversial, but when that seat is reserved for the representative of the United States of America, things get a little dicey.
Twitter was outraged to see Ivanka Trump briefly take over the president's seat at the G20 summit in Germany on Saturday after Donald Trump had to leave the room for a short time. The first daughter was photographed sitting between Chinese President Xi Jinping and British Prime Minister Theresa May at the working session on "Partnership with Africa, Migration and Health."
While the Trump family is surely used to swapping in surrogates during long meetings involving its business empire, it's a little different when it comes to national officials representing a country internationally. Normally, when a head of state has to leave a meeting, he or she will be temporarily replaced by a high-level official.
This one tweet, from policy expert Brian Klaas, laid down the big problem with Ivanka Trump so casually assuming her father's seat.
While Trump may have influence in her father's administration, what she does not have is an elected position as a representative of the United States, or any significant foreign policy experience, as Klaas points out. Nor does she have a position anywhere near on par with the heads of state around her.
The point is not that she sat in a chair or that she moved closer to the conversation. The point is that chair is reserved for the person who has been elected to represent the United States, and sitting in it means something.
It's another step on the road of figuring out what, exactly, is the role the first daughter plays in Donald Trump's White House.
The White House, including Trump herself, seems to frequently go back and forth about just how official the first daughter's role is.
Trump is an advisor to the president, complete with West Wing office and security clearance, but does not take any pay. She has claimed that she tries to "stay out of politics," but meets with heads of state on the international stage and advocates on major policy issues. In public, she's often more visible than the putative first lady, Melania Trump. She's even reported to be considering a trip to China to pave the way for a future diplomatic visit by her father.
Relatives of the president are barred from holding a Cabinet position or federal agency job by a 1967 anti-nepotism law, but a federal judge ruled that the law doesn't apply to White House staff jobs. However, while her appointment was legal, many ethics experts were troubled by it at the time.
Some, however, thought the reaction was overkill.
German Chancellor Angela Merkel didn't see a problem with Trump taking over her father's seat, in light of her role in the White House. "Ivanka Trump belonged to the American delegation, so that is in line with what other delegations do," she told the Associated Press later on Saturday. "And it is known that she works at the White House and carries responsibility for certain initiatives."
Whether that makes it better or worse is up to interpretation.