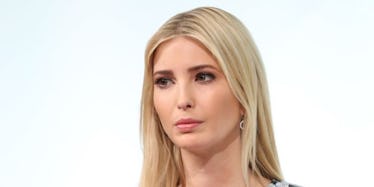 Ivanka Putting "Intense" Pressure On Dad To Not Withdraw From Climate Deal
Sean Gallup/Getty Images
President Donald Trump is reportedly planning to withdraw the U.S. from the Paris climate accord, a global agreement to reduce greenhouse gas emissions to curb global warming, and his daughter is apparently very unhappy about it.
Ivanka Trump, who is an unpaid employee in the White House, has put "intense" pressure on her father to not step away from the climate deal, according to Axios reporter Jonathan Swan.
Prior to Trump's inaguration it was reported Ivanka wanted to make climate change "one of her signature issues," and this isn't the first time it's been reported the first daughter spoke out on climate change.
Ivanka Trump and her husband, White House Senior Adviser Jared Kushner, reportedly pressured the president to leave out language against the Paris climate accord from an executive order he signed during his first 100 days that rolled back Obama-era climate change policies.
Months later, in March 2017, it was reported Ivanka and Secretary of State Rex Tillerson warned the president of the "damaging diplomatic ramifications" of stepping away from the Paris climate change treaty.
If President Trump does end up pulling out of the Paris climate accord, it seems Ivanka has failed to have a strong influence on his stance on climate change.
The White House said an announcement will be made once Trump has made a final decision.
Environmental groups are criticizing Trump for even considering stepping away from the climate deal, but it wouldn't come as much of a surprise if he did.
In the past, Trump described climate change as a "hoax," and he promised to remove the U.S. from the climate change treaty, or at least "renegotiate" it, during his 2016 campaign.
Trump has argued the climate deal would have a detrimental impact on the U.S. economy.
The U.S. would be one of only three countries to not support the climate deal if Trump withdraws from it.
The United Nations climate treaty was agreed to by 195 nations in Paris in 2015, signed in April 2016 and went into effect in November 2016.
Former President Barack Obama was a major supporter of the deal, which calls for the U.S. to reduce carbon by 26 to 28 percent from 2005 levels by 2025.
If Trump pulls the U.S. out, it would join Nicaragua and Syria as the world's only countries not participating in the climate change deal.
The U.S. withdrawing from the deal would not break it apart, but America is the world's second-largest greenhouse gas polluter and such a move would set a very bad precedent for other countries.
Not to mention, it would have an extremely negative impact on the environment, which is bad for everyone.
Citations: Trump planning to pull U.S. out of Paris climate deal: source (Reuters)