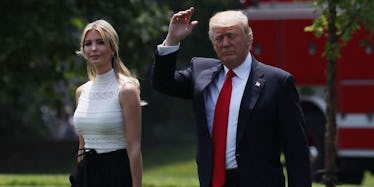 Ivanka Trump, White House Official, Says She Tries To "Stay Out Of Politics"
Mark Wilson/Getty Images
Ivanka Trump, daughter of President Donald Trump, and an unpaid employee in the White House, says she tries to "stay out of politics."
Perhaps she should pursue another career if that's the case? Just saying.
Trump appeared on Fox & Friends on Monday morning, and when she was asked about her father's use of social media (aka his habitual Twitter tantrums), she said,
I try to stay out of politics. His political instincts are phenomenal, he did something that no one could have imagined he'd be able to accomplish. There were very few who saw it. Early on -- I feel blessed to have been a part of the ride from day one and before -- he did something pretty remarkable. I don't profess to be a political savant, so I leave the politics to other people and really lean into the issues that I care deeply about.
So, she stays out of politics, but works in the White House, advises the president and really leans into the issues she cares "deeply" about even though she's not a "political savant." Got it.
There's definitely nothing contradictory about any of that.
Trump's remarks led to some interesting reactions on Twitter.
Mainly, people seem tempted to never look at the news ever again.
Trump also said she thinks her dad is doing an "amazing" and "unbelievable" job.
The first daughter and special assistant to the president said being president is "a really hard job" and "there are always naysayers, and it's much easier to criticize than to actually dive in and do and affect change and move the ball forward."
When asked what grade she'd give the president so far, Trump said, "Oh, an A, of course. I'm slightly biased but definitely an A."
It's safe to say most Americans wouldn't agree with the first daughter, given 57 percent of the country currently disapproves of the job Donald Trump is doing as president, according to Gallup. Sad!