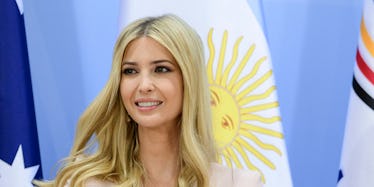 Ivanka Took Over For Her Dad At The G20 Summit And Twitter Is Outraged
Ukas Michael - Pool/Getty Images
We know by now that the first daughter is an influential person in her father's presidential administration. But people were still shocked to see Ivanka Trump take over for the president on the world stage at the G20 summit in Germany on Saturday.
The first daughter took over President Donald Trump's seat at the working session on "Partnership with Africa, Migration and Health" on Saturday morning, The Washington Post reported. A photo posted to Twitter showed her sitting between Chinese President Xi Jinping and UK Prime Minister Theresa May, one seat down from Russian President Vladimir Putin.
The photo was apparently posted to Twitter by a Russian attendee at the meeting, and has since been deleted by the original poster.
A spokeswoman for Ivanka Trump told The Washington Post that she had "briefly joined the main table" when her father had to step away. The president had left in order to meet with an Indonesian leader, the BBC reported, noting that the first daughter didn't seem to make any significant contribution to the discussion in his absence.
Normally, if the president has to leave a international meeting for any reason — even presidents have to use the bathroom — it's a high-ranking official who takes over.
The younger Trump is photographed literally rubbing shoulders with world leaders barely two weeks after she said in an interview that she tries to "stay out of politics." Ivanka Trump is an advisor in her father's administration and has an office in the West Wing of the White House.
Social media was incredulous.
Some were concerned about the fact that the photo was shared by a Russian attendee.
And there were plenty of people who called out the dynastic nepotism of the whole thing.
President Trump spoke in his daughter's support the same day.
In a speech at the launch of a women's economic empowerment event, a cause that Ivanka Trump has championed, he said that he was proud of her and that her life would "be easier" if her last name wasn't Trump, NBC reported. "It might be the only bad thing she has going, if you want to know the truth," he said.