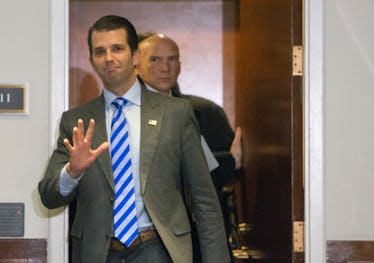 Donald Trump Jr.'s Dating History Before He Married Vanessa Trump Has Me Baffled
Tasos Katopodis/Getty Images News/Getty Images
Vanessa Trump seems like a great catch: She's a former model and actress, and when it comes to her kids, she's even been described by Ivanka Trump as "Wonder Woman." So, in the midst of Vanessa and Donald Trump Jr.'s high-profile divorce after a marriage of 12 years, the No. 1 question on my mind is: who did Donald Trump Jr. date before Vanessa Trump? The answer is: it's complicated.
While we know Vanessa's dating history includes hunks like Leonardo DiCaprio, when it comes to Trump Jr., there's less to talk about. In 2004, around a year before he wed Vanessa, Trump Jr. admitted to New York Magazine that he spent years successfully avoiding the media and "trying not to be seen." He told the publication,
When I was younger, I went out of my way to avoid any kind of media attention. To this day, I meet people and they're like, 'I didn't know [Donald Trump] had a son! You mean Ivanka's not the only one?' She did her modeling thing, she was out there a little bit more. But if there was a reporter within 100 miles, I was in the background somewhere, trying not to be seen.
Instead of creeping around with girlfriends, Trump Jr. was busy hunting and fishing with his grandfather and focusing on school and business, according to a March 18, 2017 report from The New York Times. Not to mention, if he was in the limelight, his 2001 arrest for public drunkenness during Mardi Gras probably would have had a worse outcome than just 11 hours in jail. Trump Jr. even admitted that his hobbies saved him from trouble while speaking at a fundraiser for the Western Hunting and Conservation Expo in 2016. He revealed, "I know that the benefits I got from being in the woods, from being in a duck blind, from being in a tree stand at 5 o'clock in the morning, kept me out of so much other trouble I would have gotten into in my life."
Aside from that, he probably learned a lesson or two from his father when it comes to living in the public eye. The business mogul-turned-president had a highly-publicized split from Trump Jr.'s mother, Ivana Trump, after an alleged affair with actress Marla Maples. The news was so tough for Trump Jr. that he avoided speaking to his father for an entire year, according to New York Magazine.
In 2001, after he and his father reconciled, he began working for the Trump Organization, climbing up the ranks to executive vice president, before moving on to serve as a boardroom adviser on his father's hit show The Apprentice, The New York Times reported.
Booked and busy.
He does have one alleged romance, though.
While working on the show, Trump Jr. allegedly had a brief fling with Danity Kane singer Aubrey O'Day, who he met on the Season 5 set of Celebrity Apprentice. According to Page Six, the alleged affair lasted from the end of 2011 to March of the following year while his wife Vanessa was pregnant with the couple's third child. Trump Jr. reportedly "pursued [Aubrey]. It was him who chased her," an insider told the publication. "He told her that his marriage was already in the process of dissolving."
The source also reportedly added, "I think his marriage to Vanessa was over long before Aubrey came along." Representatives for Trump Jr. and O'Day did not respond to Elite Daily's requests for comment on the alleged affair.
Though sources reported that the fling was very "serious," O'Day was reportedly unaware of the state of Trump Jr.'s marriage. Another insider reportedly told Page Six that the singer "fell for him hard," saying,
When it started, they were very serious all of a sudden. He told her it was over with his wife, that they were separated and he didn't love her — all of that stuff. … Aubrey fell for him hard. She thought they were going to be together for real.
Maybe Trump Jr. will have an easier time finding love now that he lives a bit more openly. If not, he can always go back to his love for hunting and fishing.