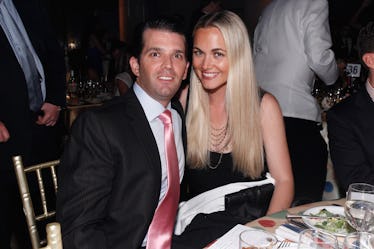 Vanessa Trump Used To Date This '90s Heartthrob & I Kind Of Can't Believe It
Brian Ach/Getty Images Entertainment/Getty Images
Ever since Vanessa Trump filed for divorce from her soon-to-be ex-husband Donald Trump Jr., the reports about their marriage life have been coming in like a whirlwind. Some reports said Trump lived like a "second-class citizen" throughout her marriage, others claimed the couple's relationship has been on the decline for years, and, aside from all that, the Trumps get tons of controversial media attention anyway. So, some of us have been wondering what Trump's life was like before she got married, but specifically, who Vanessa Trump dated before Donald Trump Jr. I'll give you one hint: he was America's collective #MCM before that was even a thing.
According to New York Magazine, Trump, née Haydon, was connected with '90s heartthrob Leonardo DiCaprio back when she was a 20-year-old Wilhelmina model in 1998. She was even spotted getting cozy with the Titanic actor during a movie premiere party. (Maybe asking if he'd paint her like one of his "French girls?") The magazine quoted a Star report that said, "Leonardo DiCaprio has fallen hard for a stunning young model — and pals say this time it's love. The superstar is so smitten with blonde beauty Vanessa Haydon that he's now a one-woman man." His publicist at the time denied that they were dating to New York Magazine.
A man who has reportedly known Trump since they partied at teen clubs together also told the publication at the time that she used to have a wild streak — a statement which, honestly, raises even more questions about their reported romance. He said,
Vanessa played the media really well. Now she's all dolled up and ladylike and sh*t, but she used to be this hard-rock in leather and baggy jeans. She was a total gangster b*tch.
I'd have to see that to believe it, though.
Trump reportedly lived like a "second-class citizen" during her marriage to Donald Jr.
Though some people see Trump as "dolled up," she was reportedly forced to live on a "tight budget" and barely had money to pay for personal expenses throughout her relationship with Donald Jr., according to Page Six. A source told the publication, "He gives her very little help and has been keeping her on a tight budget. She doesn't live a lavish life and can very rarely pick up a check at dinner." In a statement, a spokesperson for Trump denied the report, saying "The notion that she has had to rely on her family for assistance is absolutely false and utterly ridiculous." A representative for Don Jr. did not respond to Elite Daily's request for comment on the subject.
But that's not all: a source claimed that the couple's marital issues date back to at least 2005 — before they were even married.
They were having problems before they even got married. People were telling her not to marry him before the wedding. She was interviewing divorce lawyers before [Trump's presidency]. No one thought he'd win. He won and she decided to stay until his term is over. But she just couldn't stand it anymore.
Sources also declared that Donald Jr. isn't who he portrays himself as on social media, which led to the couple's demise, saying,
She hates that he posts stuff online, pictures of their kids and how he paints the picture of him as a perfect father, like he's Mr. Dad. It's not the truth. And when he's not away on business trips, he's hunting and fishing.
The couple has been keeping things cool, though.
On March 15, Trump filed for divorce from Donald Jr., but things still seemed amicable between the two. The Trump Organization shared a joint statement from the couple with Elite Daily that said they had "tremendous respect for each other" — aka things are good, right? The statement reads:
After 12 years of marriage, we have decided to go our separate ways. We will always have tremendous respect for each other and our families. We have five beautiful children together and they remain our top priority. We ask for your privacy during this time.
Divorce sucks, but imagine if Trump resurfaced in the aforementioned leather and baggy pants. I'd live for that.