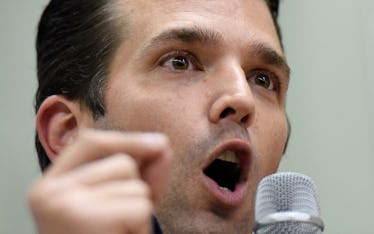 Donald Trump Jr. Came For Adam Rippon On Twitter & I'm Rolling My Eyes
David Becker/Getty Images News/Getty Images
Leave it to the Trump family to rain on everyone's Olympics parade. On Feb. 13, Donald Trump Jr. tweeted about Adam Rippon in response to the figure skater's comments about Vice President Mike Pence. Classic Trump move.
During a press conference on Feb. 13, Rippon, who is openly gay, told reporters that he doesn't want his first Olympic competition to be overshadowed by the controversy surrounding him and Pence. Rippon has openly criticized the Trump administration, particularly Pence's stances on LGBTQ+ rights. While Rippon claims to stand by his opinions and comments, according to CNN, he doesn't want those remarks to distract audiences from the achievements of him and his teammates.
He said,
I don't want my Olympic experience being about Mike Pence. I have no problem about what I've said because I stand by it, but I think right now the Olympics are about Olympic competition.
Rumors started flying that Rippon had declined to meet Pence for a face to face conversation leading up to the Olympics.
Obviously Rippon wants the spotlight to be on his achievements, and not on his comments about the vice president. So while Rippon is busting his butt at the Winter Games, it looks like Donald Trump Jr. is flexing his finger muscles by responding to Rippon's comments in the most petty way possible.
Cue eye roll. Clearly Twitter fingers runs in the family.
Pence was named one of the U.S. officials that would lead the American delegation at the 2018 Winter Games. This led Rippon to bring up Pence's reported support of gay conversion therapy, a report which a Pence spokesperson later called a "mischaracterization." During an interview with USA Today reporter Christine Brennan, Rippon said,
If it were before my event, I would absolutely not go out of my way to meet somebody who I felt has gone out of their way to not only show that they aren't a friend of a gay person but that they think that they're sick. I wouldn't go out of my way to meet somebody like that.
A website for Pence's congressional campaign in 2000 included a statement which said, "Resources should be directed toward those institutions which provide assistance to those seeking to change their sexual behavior," according to The New York Times. A spokesperson for Pence later said that the statement referred to "groups that promoted safe sexual practices."
During an interview with CNN, Rippon's mother actually clarified that her son hadn't ruled out meeting with Pence, but wanted to focus on the Olympics. However, On Feb. 12, Rippon confirmed that he would boycott a visit to the White House following the 2018 PyeongChang Winter Olympics.
Pence responded to the reports by tweeting them as #fakenews.
Pence also tweeted to Rippon wishing him good luck during his Olympics routine.
So far Rippon hasn't responded to Pence — or Trump, for that matter — but I have to say Rippon might be the best tweeter I've ever seen.
Since his Olympic debut, we've all been fangirling over Rippon. So of course, the loyal Twitterverse came to the Olympian's rescue as soon as Donald Trump Jr. tried to come at Rippon.
Rippon is certainly worth the recognition he's asking for. Not only is he the first ever openly gay male figure skater, but his performance on Feb. 11 in free skate left audiences totally mesmerized.
Rippon has had to constantly answer questions regarding the pressures of being an open gay male athlete, prompting him to address the topic via Twitter on Dec. 27, 2017.
He wrote,
I was recently asked in an interview what its like to be a gay athlete in sports. I said that it's exactly like being a straight athlete. Lots of hard work but usually done with better eye brows.
Regardless of Donald Trump Jr.'s pettiness, Rippon is a true inspiration for aspiring Olympians and young members of the LGBTQ+ community. The figure skater discussed with CNN how he wants to use his platform to help others, and how the messages of support he has received has fueled that drive.
He said,
I've got so many messages from kids all over the country — I'm getting so emotional thinking about it — I think that's why it's so important. I think as an athlete I use this platform to my advantage. I think it's giving my skating a greater purpose.
I'm not sure if he could be any more perfect. Don't let the haters steal your shine Adam!