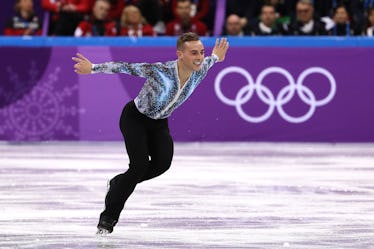 Adam Rippon Just Slayed His First Ever Olympics Routine & You Need to See It
Jamie Squire/Getty Images Sport/Getty Images
OK, this is going to sound dramatic, but the video of Adam Rippon's 2018 Olympics routine is arguably the greatest thing I've ever seen. Judging from uproar all over Twitter, I'd say many other people feel the same way. As the first openly gay American figure skater to qualify for the Winter Olympics, Rippon had a ton of eyes on him when he took the ice, and, well, this man clearly came here to skate and slay.
Rippon's performance score of 89.38 led him to knock out Olympic Athletes from Russia (OAR) who held a 88.35 score.
Rippon's performance at the Olympic qualifiers in San Jose, California left the public with little belief that he would be gracing PyeongChang this year as a member of the U.S men's single team. So it came to a shock to many when Rippon's name was called along with fellow first time Olympians Nathan Chen and Vincent Zhou. While Rippon's performance may have been shaky during the qualifiers, it was his body of work that won him that spot to compete. While speaking to The Washington Post, Rippon expressed his gratitude at the opportunity to compete at the historic event.
He said,
I'm really grateful that the selection committee looked at my body of work over the last two seasons. I feel that my experience will help me have my best performances at the Olympic Games, and it feels amazing to say that.
Best performance indeed, sir.
That expression of pure happiness has me in actual tears.
Following the killer routine, Rippon spoke to NBC about his performance, in the most humble way possible.
He said,
I want to be one of the first medals here at the games. We have a great team. I'm so proud to be on this team. I went out there, I did my job so I'm going to be cheering for the rest of my teammates today.
At 28 years old, Rippon is one of the older Olympians just getting started in the games. It's been 82 years since an American man made his debut at the Olympic games at that age. He is also the oldest member of his team by 10 years.
But you know what they say, older yet wiser.
Since the performance aired, Twitter has been absolutely fangirling over Rippon, including everyone's favorite commentator Leslie Jones.
There must be a lot of pressure being the first openly gay American male figure skater competing in the Olympics. This being 2018, some would assume that this would be no huge deal. Well, reports prove otherwise. In 2015 the U.S was ranked worst in sports homophobia, with gay men in sports reporting that they had received the highest number of verbal threats and slurs aimed at them. This being the case, it's not uncommon for LGBTQ+ athletes to hide their sexuality while competing.
So, Rippon representing proudly as a gay man and taking his skills and determination out on the ice and absolutely demolishing that performance it is a huge moment for both the LGBTQ+ community and the Winter Olympics.
On Dec. 27, 2017 Rippon took to Twitter to share his insights on what it means to be an openly gay athlete in sports.
He wrote,
I was recently asked in an interview what its like to be a gay athlete in sports. I said that it's exactly like being a straight athlete. Lots of hard work but usually done with better eye brows.
Preach!!
If the Winter Olympics continue in this direction, it's sure to be a historic competition. Here's to having more athletes like Rippon breaking boundaries in today's world of sports, all while rocking a spectacular bedazzled outfit.