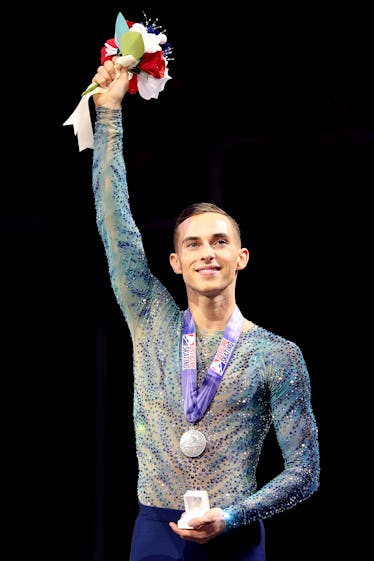 This Figure Skater Just Made American LGBT History & You Need To See His Routine
Matthew Stockman/Getty Images Sport/Getty Images
As we're all getting hyped for the Winter Olympics, there's one story you can't miss. Adam Rippon became the first openly gay American figure skater to qualify for the Winter Olympics. He was announced to the U.S. men's team on Sunday, Jan. 7, and it's a big deal.
Rippon made history for the LGBTQ+ community after his performance at the Olympic qualifiers Saturday in San Jose, California. After fumbling through his routine, according to The Washington Post, he wasn't expected to be awarded a place on the U.S. men's singles team. Ross Miner, who took silver that night, was thought to take the title. But in fact, it was Rippon whose name was called, thanks to his performance on the global stage over the years. Rippon is joined by Nathan Chen, 18, and Vincent Zhou, 17, both of whom will be first-time Olympians as well.
Per The Post, Rippon told reporters, "I'm really grateful that the selection committee looked at my body of work over the last two seasons. ... I feel that my experience will help me have my best performances at the Olympic Games, and it feels amazing to say that."
The Los Angeles-based skater also overcame significant obstacles in making it to the U.S. national champtionship this year. Exactly one year prior to the championships on Jan. 6, Rippon had broken his foot. (Major props on the comeback.)
Rippon is also ten years senior to the other men on his Olympic team. At 28, Rippon is on the older side for a newbie Olympian. In fact, as The Washington Post notes, it's been 82 years since an American man made his first entrance into the Olympic Games at that age.
Oh, and the other thing about Rippon? He's openly gay, and it's a big deal.
Let me clarify: the sports realm isn't particularly hospitable to LGBTQ+ individuals (is any realm, honestly?). As of 2015, the U.S. was ranked worst in an international study on homophobia in sports. American gay men in sports reported they'd heard the highest percentage of verbal threats and slurs against them. (The study included 9,500 participants from the U.S., U.K., Ireland, Australia, New Zealand, and Canada.) Across all countries, the vast majority of LGBTQ+ players reported hiding their sexuality from teammates out of fear. So the fact that athletes like Rippon are representing the country on the world stage is huge.
"I was recently asked in an interview what its like to be a gay athlete in sports," Rippon wrote in a Dec. 27 tweet. "I said that it's exactly like being a straight athlete. Lots of hard work but usually done with better eye brows."
While some corners of the sports world are embracing the LGBTQ+ community, others continue to hold it at arm's length. In the wake of the Pulse nightclub shooting in Orlando in June 2016, as Rolling Stone points out, few major sports leagues and teams made official statements — and some that did failed to mention that many victims were LBGTQ+.
There are some openly LGBTQ+ American athletes, but not many, and as of June 2016, per Rolling Stone, there weren't any openly gay American athletes in professional team sports. That said, the Olympic Games tend to field more openly LGBTQ+ athletes; the 2016 Summer Games in Rio, Brazil held a record 56 out athletes, Outsports reports. And this year, Rippon may not be alone as an openly gay man competing under the American flag. U.S. freestyle skater Gus Kenworthy, who is out, will get word later this month as to whether he makes the Olympic team.
Rippon is anything but shy about his identity, and hopes his openness can help others. "Growing up, I really didn't have a lot of role models. And I said, if I was ever given the chance and the platform, I would share my story," Rippon said before Saturday's event. "Because I don't really care what other people think of me. I'm able to go out there and I'm really able to be, like, unabashedly myself. And I want somebody who's young, who's struggling, who's not sure if it's OK if they are themselves to know that it's OK."
I can tell you right now: This is one Olympics fan who's already decided who she'll be cheering for. The Winter Olympics will take place in PyeongChang, South Korea, and begin on Feb. 9.
To learn more, visit teamusa.org. The Winter Olympics will air live, starting February 8.