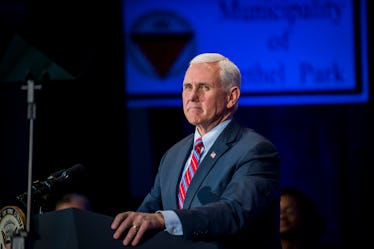 Pence Responds To Gay Olympian Who Reportedly Declined To Meet With Him
Pete Marovich/Getty Images News/Getty Images
Vice President Mike Pence appears unlikely to meet American figure skater Adam Rippon during the course of the PyeongChang winter games. But Pence did respond to the openly gay Olympian via Twitter, after a report said Rippon declined to meet with the vice president. On Thursday, Feb. 8, a tweet from Pence read,
Headed to the Olympics to cheer on #TeamUSA. One reporter trying to distort 18 yr old nonstory to sow seeds of division. We won't let that happen! #FAKENEWS. Our athletes are the best in the world and we are for ALL of them! #TEAMUSA
The reporter to which Pence clearly referred is veteran USA Today columnist Christine Brennan. On Wednesday, Feb. 7, Brennan reported that a member of Pence's staff reached out to Rippon to try to set up a conversation between the Olympian and the vice president. According to Brennan, who cited two unnamed sources for her reporting, Rippon turned down the offer.
During an interview with CNN, however, Rippon's mother, Kelly Rippon, said that her son hadn't actually ruled out a meeting with Pence, and simply wanted to focus on performing during the Winter Olympics.
The USA Today report also said that the invite from Mike Pence's staff came a mere hour after a separate report from the paper, which was published weeks before.
That report came on January 17, when Brennan spoke to Rippon about the then-breaking news that Vice President Pence would be one of the U.S. officials leading an American delegation at the Winter Olympics.
"You mean Mike Pence, the same Mike Pence that funded gay conversion therapy?" Rippon is quoted as saying. "I'm not buying it."
As Brennan noted in her reporting, Team USA athletes typically meet with members of the American delegation a few hours before the opening ceremony at any given Olympics. There just happens to be a skating event on the same day as the PyeongChange Olympics opening ceremony, however, which means meeting attending a potential meet-and-greet could have been inconvenient for Rippon, anyway.
"If it were before my event, I would absolutely not go out of my way to meet somebody who I felt has gone out of their way to not only show that they aren't a friend of a gay person but that they think that they're sick," Rippon told Brennan. "I wouldn't go out of my way to meet somebody like that."
Rippon's interview with Brennan alluded to what has become a oft-cited criticism of Pence, that he supports — or, at least, once supported — "conversion therapy" for gay people.
The accusation appears to stem from a statement that was on his congressional campaign website in 2000. The statement read, "Resources should be directed toward those institutions which provide assistance to those seeking to change their sexual behavior."
Pence has also drawn criticism for a religious freedom bill he backed in 2015, while he was governor of Indiana. The language of the bill was changed after it sparked concerns that it would allow discrimination against members of the LGBT community.
In 2016, a Pence spokesman told The New York Times that citing the quote as evidence that Pence supports conversion therapy is a "mischaracterization," and that Pence was calling for funds to "be directed to groups that promoted safe sexual practices."
After USA Today's January report about Rippon's criticism of Pence, the vice president's staff provided similar pushback. "The vice president is proud to lead the U.S. delegation to the Olympics and support America's incredible athletes," a statement from the vice president's secretary read, according to USA Today. "This accusation is totally false and has no basis in fact. Despite these misinformed claims, the vice president will be enthusiastically supporting all the U.S. athletes competing next month in Pyeongchang."
On Thursday, Feb. 8, Pence sent a second tweet that was directed at Rippon's Twitter account.
".@Adaripp I want you to know we are FOR YOU," Pence's tweet read. "Don't let fake news distract you. I am proud of you and ALL OF OUR GREAT athletes and my only hope for you and all of #TeamUSA is to bring home the gold. Go get 'em!"
During her phone-in interview with CNN's New Day on Thursday morning, Kelly Rippon said that her son was not ruling out the possibly of meeting with Pence after the conclusion of the Olympic games.
Whether the vice president's makes another offer for such a meeting remains to be seen.