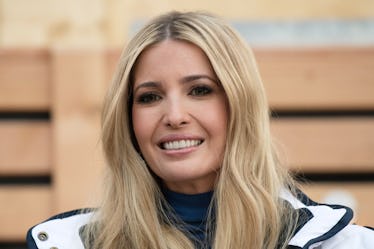 Ivanka Trump Is Still Making Millions Off The Trump Organization, Report Says
Carl Court/Getty Images News/Getty Images
Donald Trump isn't the only White House official to be plastered across headlines and airwaves for his administration's ties to the business world. In fact, his daughter and trusted adviser Ivanka Trump is in the news for the same reason and all of us are craving more details. You see, Ivanka Trump is still making millions off the Trump Organization, according to a report, and the funds pose a potential conflict of interest as related to her position in the White House.
On March 12, McClatchy DC reported that Trump will reportedly make at least $1.5 million annually from her her ties to the Trump Organization. She was expected to make several hundreds of thousands each from various companies, all of which are linked to the Trump Organization, for consulting, real estate management and licensing services. Though Trump resigned from her position in the family business to move on to her role in the White House, she was still slated to receive the funds starting in 2017.
However, since Trump works as a senior adviser to the president, the companies she is receiving money from could pose potential conflicts of interest that are restricted by federal law and ethics mandates. As McClatchy points out, there are numerous instances where foreign governments and officials are able to favor Trump-branded businesses, whether by making them more convenient to access or patronizing them directly.
Back in January 2017, Trump announced that she would be stepping down from her position in the Trump Organization, before she announced in March of that year that she would take an (unpaid) job in the White House.
A spokesperson for Trump's attorney has maintained that she didn't violate any ethics regulations, telling McClatchy, "When Ms. Trump became a federal employee, she transitioned from being an active investor and manager to being merely a passive investor. She did this as a result of ethics advice she received, and has followed that advice."
But clearly, not everyone sees things that way.
Because Trump has been called out for reportedly using her position in the White House to her advantage before.
According to an analysis by The Wall Street Journal, Trump was spotted wearing items from her company, IT Collection LLC, in 68 percent of photos shared to her social media accounts between March and October 2017. The pictures raised questions and concerns that Trump was using her post in the White House to promote her brand, though she later insisted she wasn't trying to score profits. And in February of 2017, fellow White House aide Kellyanne Conway plugged the Ivanka Trump brand on national television, saying in an interview with Fox News,
Go buy Ivanka's stuff, is what I would tell you. I hate shopping, I'm gonna get some myself today. ... It's a wonderful line. I own some of it. I'm gonna give a free commercial here: Go buy it today, everybody. You can find it online.
The first daughter isn't the only one who's come under fire for possible conflicts of interest.
Her father, Donald, has come under fire for his ties to the Trump Organization, as well. Donald Trump didn't fully divest from the Trump Organization — instead he handed over control to his sons, Donald Jr. and Eric, meaning that the president could still profit from his business ties.
And if that wasn't enough, Trump's husband and fellow White House adviser Jared Kushner has also come under scrutiny for possible conflicts of interest. Back in February, The New York Times reported that in 2017 Kushner met, at the White House, executives from Apollo Global Management LLC and Citigroup Inc. — both of which later shelled out more than $500 million in real-estate financing to Kushner Companies, the company that Kushner once ran and still has an interest in. A spokesperson for Kushner's lawyer told the Times that Kushner "has taken no part of any business, loans or projects with or for" the company since joining the White House, adding that he had followed ethics advice.
I can't wait for the day when some definitive news breaks and all of this conflict of interest drama can be dealt with properly, because it's a never ending story. Or headline, in this case.