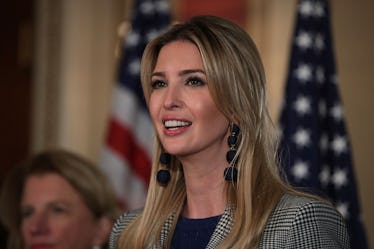 Ivanka Trump Posted A Video Of Her Kid Singing Taylor Swift & I Can't Handle It
Alex Wong/Getty Images News/Getty Images
Watch out Grammy Awards, Arabella Trump is coming for you. On March 18, first daughter Ivanka Trump took to Instagram to share a pretty adorable musical performance from her mini-me. Just watch Ivanka Trump's video of her kid singing Taylor Swift and try not to bop along.
Trump shared a video of her daughter, Arabella, on March 18 singing along to some radio favorites. The video starts out with Arabella breaking it down to Imagine Dragons' popular hit "Thunder," which I must say she's totally rocking. Then, Trump decides to switch it up a little by playing Taylor Swift's iconic single "Look What You Made Me Do." At first Arabella is a little shy at the song change, but what singer wouldn't want a little time to practice before performing to a T-Swift song? I don't blame the girl. Very unprofessional, Ivanka.
Once Arabella warms up to the tune, her rendition is all charm. Her soft, quiet voice is a nice switch from Swift's edgy single. Plus that popsicle pajama ensemble is completely on point. I don't think I'm exaggerating when I say that Arabella might be ready to hit the stage very soon.
Just watch for yourself and enjoy the show.
So who is this rising superstar? Arabella Kushner and her mother Ivanka Trump are way more alike than you might think at first. In addition to having a promising future in the music industry, Arabella also loves to strike a fierce pose now and again. Trump has taken to Instagram multiple times to share her daughter's modeling skills. So what's the similarity to Trump? Well the first daughter actually had a short-lived modeling career from the 90's to early 2000's.
Not convinced that they're doppelgängers yet? Well here's a few more facts about the pair. They're both the oldest daughters of their families and obviously have received a bit more media attention than most young girls. Perhaps Arabella can take that time in the spotlight and channel it into some stage performances? I'll be first in line for ticket sales.
Even though Arabella might be getting praise from the public, her mother has been getting a less than ecstatic reaction.
Even though there's been so much controversy surrounding the Donald Trump administration, Trump is clearly a daughter not to be reckoned with. Instead of stepping away from the spotlight as Donald Trump serves in office, the first daughter grabbed the bull by the horns and thrust herself into politics alongside her father. Trump spoke to CBS This Morning on April 4, 2017 to address comments from critics claiming her and her husband Jared Kushner are complicit in President Trump's actions.
She said,
If being complicit is wanting to, is wanting to be a force for good and to make a positive impact then I'm complicit. I don't know what it means to be complicit, but you know, I hope time will prove that I have done a good job and much more importantly that my father's administration is the success that I know it will be.
Among her speaking platforms, Trump has openly discussed ending gender pay discrimination in workplaces. This has been met with some skepticism from the public, especially since President Donald Trump rolled back Obama-era protections for women in the workplace on March 27, 2017 — to which Trump was, as she said at the time, complicit by not fighting against the action. By ending these protections, it's even harder to ensure that women will receive equal pay to men in the same position as well as cracking down on sexual harassment in the workplace.
Of course, the hypocrisy is too obvious to ignore. On April 4, 2017 Trump tweeted in honor of Equal Pay Day, and naturally was met with a huge amount of backlash form the public.
More recently, Trump's earned criticism for doing things like removing the line describing herself as an advocate for women and girls from her Twitter bio; for supposedly supporting the Me Too movement against sexual assault and harassment while defending her father for regularly siding with those accused of misconduct; and for refusing to weigh in on the fact that her father has been accused of sexual misconduct by more than a dozen women (the president has denied the allegations, including by implying that his accusers are too unattractive for him to have assaulted, and the official White House position is that all his accusers are lying).
As a daughter and mother, let's hope Trump will steer Arabella in a direction that promotes equality and strength.
Here's to strong women. May we know them. May we raise them.