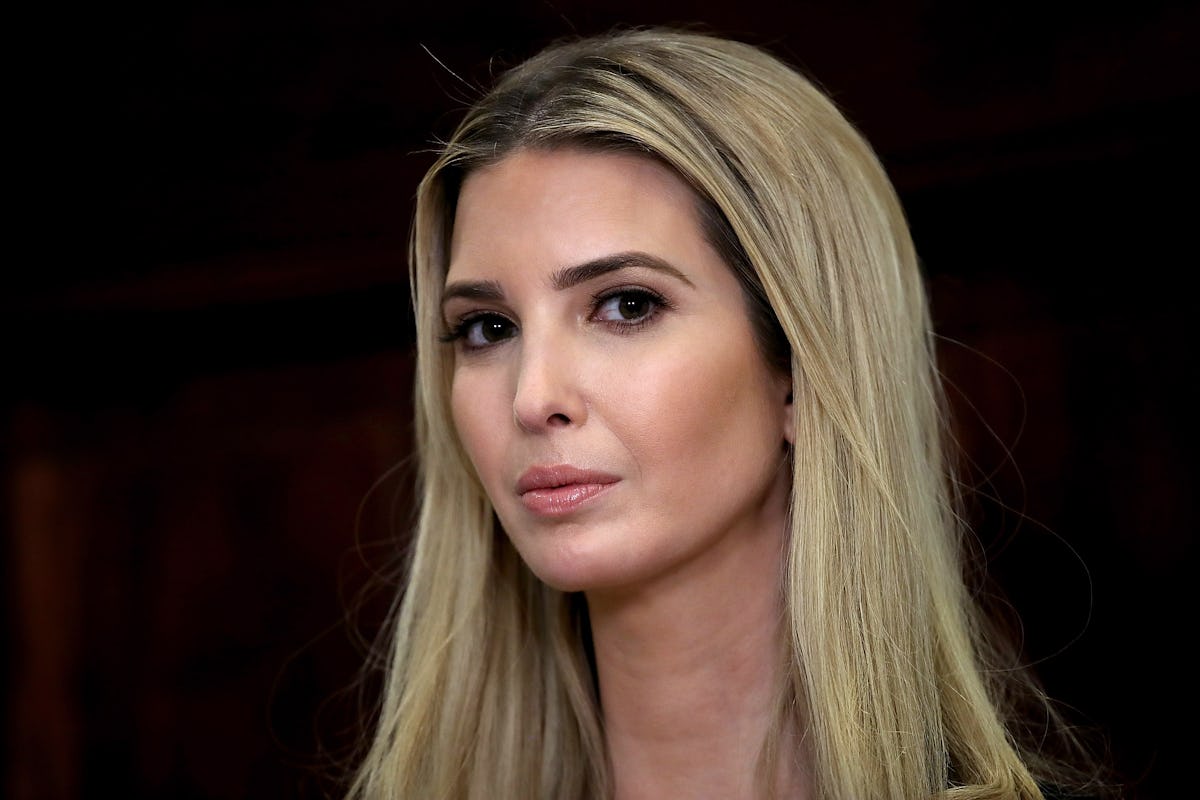 Ivanka Trump's New Twitter Bio Has Everyone Seriously Pissed Off
Win McNamee/Getty Images News/Getty Images
If you are anything like me, you probably don't spend a lot of time stalking Ivanka Trump's Twitter. So, you probably missed the very special way that Trump's eldest daughter changed things up one year into her father's presidency. Ivanka Trump removed "women and girls" from her Twitter bio on New Year's Day, and man, people are not happy.
Trump's bio used to read:
Wife, mother, sister, daughter. Entrepreneur & advocate for the education and empowerment of women & girls. This is my personal page. Views expressed are my own.
However, as of Jan. 22 Trump has removed the phrase, "passionate advocate for the education and empowerment of women and girls." Her bio now reads:
Wife, mother, sister, daughter. Advisor to POTUS on job creation + economic empowerment, workforce development & entrepreneurship. Personal Pg. Views are my own
(She also seems to have removed a needed period. Just saying)
It's pretty ironic, seeing as Trump has painted herself as an advocate for women in her father's administration.
Trump's personal pet project was supposed to be national paid family leave, which is a policy that allows people to take paid time off to do things like recover from childbirth, or care for their child or a loved one with a serious health condition or recover from a condition or injury themselves. During the 2016 campaign, she reportedly helped push her father to include six weeks of paid maternity leave on his official campaign platform.
During the push for tax reform, Trump also advocated to include deductions for child care as part of the Republican plan, which would ostensibly help women and households raising children. However, Trump was later blasted over criticism that the plan would do little to help those who need it most.
But Trump has also stood by her father when his ideas and policies would negatively affect women.
Trump stood by her father as he rolled back Obama-era equal pay protections and access to birth control, both issues that stand at the forefront of women's rights at the moment. Not to mention her silence during the Women's Marches around the country, at which women spoke out about discrimination, inequality, and harassment, among other issues. In fact, many pointed out, she seemed to have changed her bio while the 2018 Women's Marches were actually taking place, over the weekend of Jan. 20 and 21.
Twitter agreed that Trump's new bio rings truer than her old one.
I can't sit here and speculate as to why the sudden change came about, but maybe there's more insight in the other changes Trump made to her Twitter bio. In addition to removing all traces of feminism, she also removed "entrepreneur," changed her location from "New York" to "Washington, D.C.," and got rid of the link to her very own ivankatrump.com. Removing the link to her site does make sense considering she has come under fire for using her newfound political platform as free publicity for the brand she was said to have abandoned.
On Dec. 27, 2017, The Wall Street Journal published an investigation that found out of the 68 social media photos Trump posted in 2017 between when she officially became a White House adviser in March and October of that year, in 46 of those photos Trump is sporting her own brand. Why is that a problem? Well, under law, public office holders are not allowed to use their position to promote products they benefit from. So Trump using her adviser position as free publicity is not OK.
So, if we put it all of these bio changes together, what do they spell? Well, to me, it signals that she's diving head first into her new political career and abandoning anything else that is not part of that agenda or may put her under scrutiny from any side. Maybe she is going to be making stronger political moves in 2018?